A wide range of products with focus on sustainability and exclusive look
The Swedish manufacturer Pahlén offers an exclusive premium collection of acid proof stainless steel AISI 316L components for swimming pools. The wide range of pool products are available both in Classic- or Marine design and includes exclusive and powerful counter-current units, massage-jets, skimmers, inlets, suction fittings and lights. All parts can be used and integrated in all kind of pool constructions, today available on the European market.
All swimming pool components are designed with focus on durability, sustainability and all visible parts are polished to ensure a high-end finish. The luxury collection creates a beautiful pool with an exclusive, clean and timeless look.
Counter-current units
Jet Swim Motion: a counter current unit providing a very natural swimming experience. Jet Swim Motion has a completely new flow technique with two wide angled oval nozzles, of which the lower one is directed downward resulting in lifting the body of the swimmer to the pool surface creating a much more natural swimming experience compared to most counter-current units found on the market.
The air mixture in the jet streams is seamlessly adjustable in order to suit personal preferences (the 2,2 kW pump has a capacity of 46 m3/h). In its modern minimalistic design, a discreet handle is hidden and integrated in the front. Jet Swim Motion is available in both Classic and Marine design and meets the requirements for pool standards EN 16582 and EN 16713.

Jet Swim Motion and Jet Swim Athlete
Jet Swim Athlete: using the same new flow technique with two oval nozzles, with a more powerful capacity (4,0 kW and 68 m3/h), the user can easily improve his swimming technique and physical fitness. Jet Swim Athlete fully complies with European Pool standards EN 16582 and EN 16713. The 4,0 kW pump is made of bronze with an IE3 motor which fulfils the European ECO-design directive and is also third party approved for Electric Safety by Intertek according to International IEC and European EN Standard IEC/EN 60335.
Massage-jets
Jet Massage: a powerful massage system with air injection for your well-being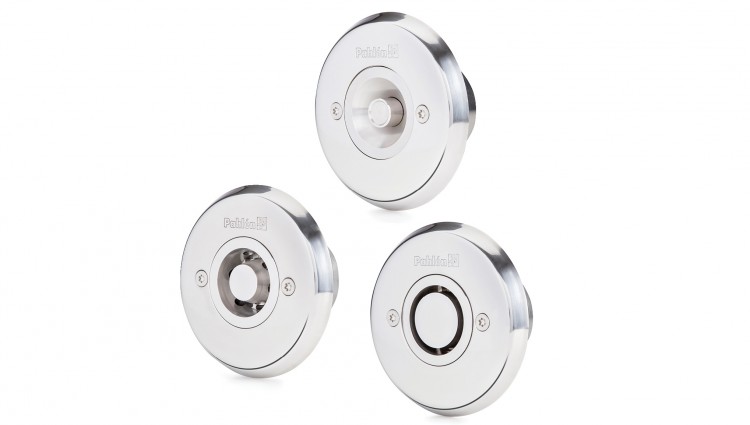 Jet Massage
Skimmers:
Classic Wide 385 wide mouth skimmer with stainless steel flap weir and a polished front (Classic Wide 6° 385 suits single body pools with 6-degree angled walls) allows for a high-water level and can be used in concrete as well liner swimming pools. The skimmer has a vertically adjustable collar from 30 to 70 mm, it also offers a large capacity strainer basket to hold plenty of debris.
Inlets and outlets:
A collection of different jet nozzles and suction points, all complying with the European Safety Standards.
Pool lighting:
Classic LED-lights AP-series and VS-series (all with polished front) complete the range of these high-end stainless steel components. All lights are available for all different pool types and delivering white- or dimmable RGB LED lighting and available in different power options. It is supplied as a complete unit with a niche for simple installation. The LED lights can also be remote controlled as an option. Also spotlight LED are available in RGB for all different pool types, also remote controlled.