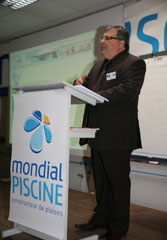 From 3 to 5 March, Mondial Piscine met all its partners-counsels for its annual seminar in the presence of its Chairman Michel Morin.
Its Belgian, Luxembourgian, Swiss, Portuguese and Spanish partners, too, came over for the meeting.
These three days were dedicated to the review of year 2007 and presentation of the strategy for 2008.
It was the occasion to take stock of the situation about market-trends, technical innovations and changes prescribed by regulations.
In addition to FPP, Mondial Piscine had also invited the representatives of supplying companies such as Pontoon, Pentair, PSA and Class to this annual event for sessions dedicated to presentation of their new products.