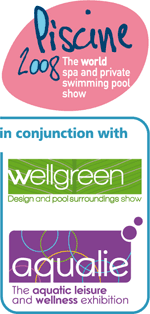 All of the key plaiers in the swimming pool, spa and sauna and aquafun industry will be present at
PISCINE - AQUALIE - WELLGREEN, 18-21 November 2008 - Eurexpo-Lyon
Swimming pools are developing, the swimming pool is undergoing changes, as is its environment! Featuring more equipment, more personalised, with a better design, swimming pools are a place for conviviality and leisure for private pools, a place for sports and games for collective pools, a space for wellbeing for fitness centres, thalasso centres... To see it all, and to find out all there is to know within each market segment, each universe, Piscine, the world spa and private swimming pool show changes: For its 14th edition it proposes 3 events in 1!
From November 18 to 21, 2008, Eurexpo, Lyons exhibition and congress venue will welcome the following trade exhibitions:
-
PISCINE 2008:
all the equipment, supplies and solutions for domestic swimming pools and Wellness,
-
AQUALIE 2008:
customised solutions designed to develop the activities of public and private facilities,
-
WELLGREEN 2008:
all you will need in order to design and create outdoor amenities for the swimming pool environment.
Perfectly adapted to the different needs of the market, the three complementary shows Piscine, Aqualie and Wellgreen will present the most recent developments and trends. Thanks to this combination, visiting the shows is facilitated and optimised, ensuring maximum efficiency and saving time. New products, trends, innovations, encounters, all there is to see and know concerning swimming pools, wellness and outdoor amenities will be presented at Lyons from 18 to
21 November at the Eurexpo exhibition venue.
ORDER YOUR FREE BADGE Code "BEU" and prepare your visit!
THREE SHOWS: THREE TIMES MORE CONTACTS

Several events will be held as part of the three shows to optimise this unique occasion in terms of professional contacts:
- Discover the latest products launched as world exclusivities, on the "New Products Podium", featuring the major innovations from the three shows;
- Exchange with professionals during the Business Dates: major innovation, these meetings aim to facilitate individual professional meetings. Thanks to exchanges and contacts made ahead of the show, exhibitors, decision makers, and buyers from all over the world will be able to optimise their meetings with other professionals from the industry;
- Build a unique network thanks to the "Club International" created in partnership with "Classe Export". Club International aims to bring together professionals from the industry and to facilitate export activities (regulations abroad, funding, transportation and logistics, subsidies for exporting, market surveys). A new way of creating contacts on an international scale for swimming pool specialists. An Internet website will be created, presenting information on how to develop abroad, legal information…, also a "Club VIP International" to answer specific requests and questions on the subject during the trade fair. Personalised meetings will be arranged.
- Find information concerning topical themes with the Renewable Energies Village. Situated at the centre of the shows, the Renewable Energies Village will present a panorama of the solutions adapted to swimming pools. Solar panels, geothermal, heat pumps … different systems as applied to the swimming pool will be detailed and illustrated.
- address topical issues by participating in thematic roundtables held at the heart of the three shows: open platforms, accessible to all, will offer information on many subjects.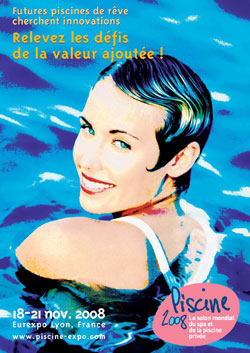 With 98 000 additional pools in 2007, up 7.9% compared to 2006, the domestic market for pools is developing rapidly. More innovative and more accessible, the swimming pool sector is multiplying products and services so as to satisfy the different requirements and styles. Another current trend is represented by spas, saunas and steam baths designed to bring comfort and wellbeing in the home.
Design and new products will be under the spotlights for this 14th edition of Piscine, World Swimming Pool Show, offering an insight into the swimming pool and spa of tomorrow, and inspiration for pool environments and amenities.
THE EVENTS
•
The Avant-garde corner
As an exclusivity of Piscine 2008, this section, designed in partnership with Dezineo consulting company, will present prototypes and models imagined by students of Créapole school of design. Accessories, equipment, amenities… all the innovations as selected by a jury of professionals will be on display, presenting a concrete and surprising vision of tomorrow's products!
• The materials corner
Omnipresent in the swimming pool and spa industry, plastic can take on all shapes, colours and aspects. In this dedicated area, materials will be presented under a variety of forms in order to demonstrate their different properties and the possibilities they offer.
MEETINGS AND CONFERENCES
•
Piscine 2008 roundtables
How to create a show-room, adapting to new regulations, finding the right training organisation, learning about the latest sales techniques… all these subjects will be addressed in the form of roundtables, with specialists in the field and illustrations of practical examples.
ZOOM IN ON…
For the first time, Piscine show creates the event with its
Trends Book
created specially for the occasion. Designed together with cabinet Dezineo, this book is the result of a market survey conducted within the swimming pool industry. Shapes, colours, new materials… The best trends analysts in the industry make a head start in order to imagine the swimming pools of tomorrow and their environment.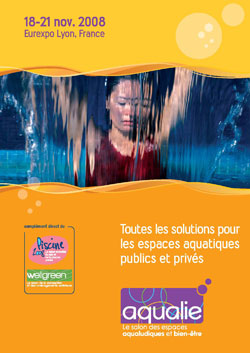 Recognised as a source of wellbeing, water plays an increasingly important role in domestic and public leisure and relaxation facilities. Hotel spas, swimming pools in fitness or leisure centres, bubble baths in health establishments… all require careful design and maintenance. For its second edition, Aqualie will feature many themed events and conferences, bringing professional answers to industry professionals, and to all players concerned with aquafun and wellbeing facilities (public facilities, hotels and wellbeing establishments, fitness centres, theme parks, programme designers, architects,…).
THE EVENT
•
Spa Concept space
Gathered under the theme "Baths and traditions of the world", several types of Hammam, saunas, spas… will be on show. From Nordic baths with the traditional Russian "Banya" sauna, to Polynesian baths with the shower tunnel and musical bath, all sources of inspiration will be on show in order to promote the different spa concepts.
MEETINGS & CONFERENCES
• The
10th Aqualie Congress
of swimming pools and aqua-leisure centres open to the public
As one of the highlights of Aqualie, the 10th congress of swimming pools and aqua-leisure centres open to the public, will welcome more than
200 participants for a series of conferences on the theme: "Swimming pools, a vector for economic, social and cultural development".
•
Aqualie Wellness Workshops
First European Encounters for Spa, thermal-leisure, aqua-leisure and thalassotherapy centres, the Aqualie Wellness workshops will review the latest fashionable establishments. Several conferences will be given by specialists on different aspects of wellbeing and water (thermal-leisure in Switzerland, development of Nordic Spa in Canada…). More technical aspects will also be addressed, featuring the latest high-tech and multi-sensorial innovations (lighting, sound systems, vibration waves…). Finally, the sociological and behavioural aspects will also be treated integrating the sustainable development approach.
ZOOM IN ON…
New in 2008, major cosmetics brands will be present to provide recommendations and guidance to establishments wishing to carry out a wellness project. Based on their experience, the brands will present the partnership programmes in which they have taken part, helping professionals to bring their projects to life, from the design to the implementation.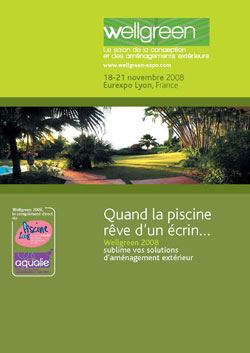 Choosing the implantation in the garden, the location and size of the deck, choosing the furniture and accessories, selecting materials, integrating sustainable design… landscaping the pool environment, this is not to be taken lightly! To find the latest information and to develop within a rapidly growing market, the first edition of Wellgreen aims to become a reference with its rich offering and the quality of its exhibitors.
EVENTS
• Lighting Village
The swimming pool has become an important living space and is increasingly appreciated both by day and by night. To enhance the pool environment once the sun has set, and to create a warm and friendly atmosphere, lighting becomes as an essential element to be integrated in the swimming pool design. Designed with architects, landscape designers, decorators.. in mind, the Village will bring together technology and aesthetics, presenting the solutions now available to professionals.
• Natural bathing
As a new approach to bathing, the natural bathing will also be on show with a presentation focused on pool design and layout. Recommendations and tips will be given on how to combine nature, environment and comfort.
MEETINGS & CONFERENCES
• Wellgreen Roundtables
The Wellgreen Forum is turned towards experience sharing, exchanging of ideas and points of view, and discovering new methods. With the contribution of many specialists in the field of swimming pool fitting and amenities, different ideas and issues will be addressed as part of constructive discussions on the theme of "Wellgreen".

ZOOM IN ON…
Held in partnership with Atout Vert, Design and Outdoor Amenities will address the subject of green spaces and outdoor amenities surrounding the pool. Landscape designers and pool builders will be present in order to explain and illustrate the essential role played by these spaces, also the importance of perfect integration within the environment.
ORDER YOUR FREE BADGE Code "BEU" and prepare your visit!
Press Releases : CLC Communication - Juin 2008