Interbad 2008, which will take place from 15 to 18 October for the first time at the new Stuttgart Trade Fair Centre, Europe's most modern trade fair grounds
, will provide first-class presentations and an abundance of knowledge to a high standard in the congresses taking place parallel to the event.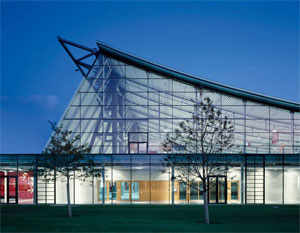 The congress for the recreational and medicinal bath industry, which is organised by the German Association for the Recreational and Medicinal Bath Industry, will deliver hard facts and present current trends.

The Spa Market Conference,
which will take place on 15 and 16 October, is aimed at owners, as well as managers of hotels, spas and wellness facilities, and will communicate valuable business know-how and present industry trends. The
congress for the recreational and medicinal bath industry
is already taking place for the 60th time.
During the first three congress days at the
symposium about "Public swimming pools and baths"
, experts will speak about swimming pool construction trends, the challenges faced when running public swimming pools and current themes such as the use of regenerative energy for swimming pools. One of the highlights in this congress will definitely be the presentation by Chris Bosse, architect of the swimming pool for the Olympic Games in Beijing.
Presentations for
the "Sauna" symposium will take place from 16 to 18 October
, in which legal aspects of the sauna business, marketing for sauna businesses and the principles on the sauna process will be presented. The symposium "Physiotherapy" will explore wellness offers in the physiotherapy business on 18 October. At the interbad party in the ICS International Congress Centre Stuttgart, exhibitors and industry experts will be able to meet each other on the second evening of the trade fair. This is the perfect opportunity to discuss the first days of the event and to exchange information and ideas in a relaxed atmosphere. Approximately 700 guests are expected at this year's buffet at the interbad party. The motto of the evening will be "casino" – the gambling tables from Spielbank Stuttgart will be available for people's enjoyment.
PRACTICAL INFOS
Together with Travel Point, the travel partner of Messe Stuttgart, and German Railways, trade visitors to interbad can book different travel packages and therefore conveniently plan their attendance at the leading international trade fair. Trade visitors from Germany can either fly or take the train to Stuttgart and the packages can contain one or more overnight stays in hotels in different categories. These categories range from a 3-star to a 5-star hotel. The packages can be booked individually at www.interbad.de where there is a link under the section "Travel" to the partners of Messe Stuttgart.

Exhibitors and visitors travelling individually to interbad 2008 at Europe's most modern trade fair centre can look forward to a unique infrastructure and perfect conditions, for example the direct exits and approach roads leading from the A8 motorway to the Bosch multi-storey car park above the motorway, which then reduces the time spent in walking to the trade fair centre to just a few minutes, and

Stuttgart Airport which offers flights to 130 destinations and is situated only 200 metres from the entrance to the trade fair centre. People travelling by rail can reach the trade fair centre by rapid-transit railway (S-Bahn) in around 20 minutes from Stuttgart Main Railway Station while trade visitors from the surrounding region are also connected to the New Stuttgart Trade Fair Centre through local public transport.

LE JUSTE LIEN / SPECIAL GERMANY


Do not forget our SPECIAL GERMANY edition...
Bilingual Deutsch / English
distributed to exhibitors and visitors of the Interbad Show
You still have a few days left to take an advertisement or to send us a press release to promote your new products 2008!!!

For further information, please contact Marie Lalanne
or call her: +33 (0)497 063 618

Interbad - Stand EuroSpaPoolNews > E472