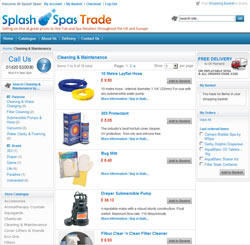 The British company Splash Spas UK Ltd has just launched www.splashspastrade.co.uk, Europe's only dedicated online ordering system offering an alternate way to procure chemical, accessories and consumables by the trade.
It provides a
one stop shop for spa retailers
to purchase all the popular chemicals and accessory products for re-sale through to their customer base. Some distributors have a limited range of products or onerous ordering criteria which can put many dealers off buying an increased range of products and thereby making them unavailable to the end consumer.
The company has launched this new website to emulate its success in the online retail supply to make a
significant proportion of its spa related inventory available for sale at trade prices
with, for example: spa filters, aromatherapy crystals by PureSpa, cover lifters, steps, toys, chemicals and inflatable spas to name but a few.
www.splashspastrade.co.uk has
no minimum order requirements
and provides an efficient and easy to use environment to research and purchase all their products.
New items are added regularly and
shipping is available on a daily basis to dealers, including to the UK, France, Belgium, Spain, Cyprus, Portugal and Italy
. The customers also have the ability to search for previous orders and to cut and paste items from these.