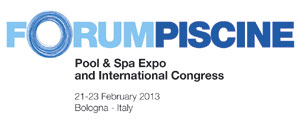 The fifth edition of the International Exhibition and Congress dedicated to swimming pools and spas

AN INTERNATIONAL EXHIBITION
The latest novelties, products and services from the best Italian and foreign companies, up to date information and training with the experts of the sector: ForumPiscine is the only event in Italy offering an exhibition and a congress of international scope to professionals and developers, architects and designers, and also to public and private operators interested in an acquisition.

The constant increase in the number of foreign companies present at ForumPiscine - they will represent 15% of the 160 exhibitors in 2013 - enabled the exhibition to obtain the well-deserved qualification of "International Trade Fair". A title important for the participants, because it is a harbinger of profits and subsidies from their respective countries.

The huge diversity of product categories is a key feature of ForumPiscine. This has only been reaffirmed. You will find among them: systems, innovations and construction technologies, maintenance and management systems for public and private swimming pools, equipment, decorations, accessories for water sports, additional features for changing rooms, covers, coverings and solariums, filtration products and systems, disinfection and water treatments, systems for dosing, control and analysis, spas and installations for well-being.

If Assopiscine sponsored the event and Piscine Castiglione - Acquaparchi & Scivoli chose to be the main sponsor, Matrix and Technogym assume these roles at ForumClub, the congress and exhibition dedicated to fitness and well-being centres, which will be held at the same time as the Fair.

The rich programme of free workshops organized by companies and associations from the sector, such as Acquanetwork, Agoracqua and Professione Acqua is another distinctive trait of ForumPiscine.

ForumPiscine 2013 also welcomes the first Convention on aquatic parks organized by Piscine Castiglione - Acquaparchi & Scivoli, with conferences on the themes of conception, decoration, safety, the evolution of standards, marketing strategies and market trends.

TRAINING BY CHAMPIONS
Hygiene and disinfection, the evolution of standards, the problems and opportunities of the market, these are only a few of the subjects that will be dealt with at the ForumPiscine International Congress which will open on Thursday the 21st with a session on new services and current changes in the swimming installations market. The world football champion, Gianluca Zambrotta, will participate in the meeting, to testify on the importance of sports as a market in which one should believe and invest.