Within our permanent desire for highlighting "THE SWIMMING POOL" we have decided to initiate first romanian swimming pool contest. One reason for launching this initiative now, was the APPW affiliation at EUSA, this spring. EUSA had also organized its first international swimming pool competition for all members, a contest in which can be registered the national award-winning works. In conclusion, in order to participate at European competition next year , we must first designate the local winners.


We hope that " APPW Awards" will become in time a well known tradition. This contest is addressed to pool builders who are enrolled in the association and through it will be awarded, based on several categories, the most beautiful pools made so far by our members. We reward the work, the vision, the professionalism of our industry and encourage special projects, designating them as winners.
The assessment of each work will be done by specialists who by their training, competence or experience may express an relevant and objective opinion on the aesthetic appearance. The jury will establish the winners for Gold, Silver and Bronze awards, and the prizes will be handed out during the Gala Awards.
But one of ours continuous concerns is interacting with the public, too. Therefore we shall award one project with the "Popularity Prize", decided through on-line voting mechanism used by web surfers. Any visitor of our contest internet page will be able to express his vote for favourite pool.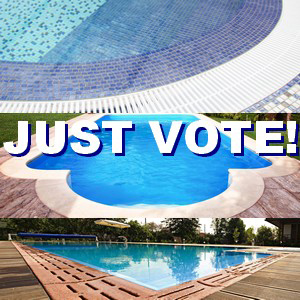 All registered works are posted here http://www.appw.ro/concurenti.php .

As you shall see the constructors' preferences aimed to outdoor pools, the type of pool mostly buildt in Romania.

So enter our site an vote ! It is important to know that you may vote more than one pool, if you cannot decide for just one favourite, but if you have only one pool you like you can not express more than one vote for it. It goes without saying that the winner must gather the highest number of votes.


Be a part of "Popularity Prize" 's decidents and enjoy it !