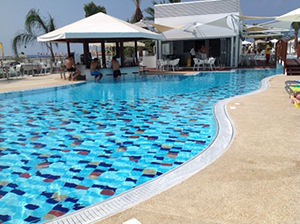 Greek natural stone company Poolstones and Cypriot distributor Capershill have recently jointly undertaken the renovation and conversion of the old skimmer pool to an overflow pool at the Vassos Nissi Plage Hotel in Ayia Napa, Cyprus.

To meet the client's needs and to create an individual effect, Poolstones opted to use overflow channels made from solid Kavala marble which were installed along the 180m perimeter of the pool's free-form shape. This is the first time that a channel made of solid marble has been patterned to fit free-form pools, according to Poolstones.

The company says that using marble has enabled them to deliver a "timeless and artistic result", which has exceeded the client's expectations.

Poolstones and Capershill emphasise that this recent collaboration on the Ayia Napa project is part of an ongoing formal partnership rather than being just a temporary informal arrangement.