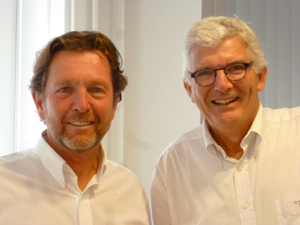 Bart van de Kamp and Marc Maupas
FIJA Group continues its European development with the acquisition of LMP (Le Matériel Piscine) a distribution company operating in Benelux.

FIJA Group, a leader in the swimming pools market, today announced the acquisition of LMP, a company specialising in the distribution of swimming pool equipment to professionals in the Benelux area.

LMP was established in 1971 and today has a team of around twenty people based in Zaventem near Brussels.
The company has developed remarkably in Benelux over the past 10 years. Known for its technical expertise in its ranges of products, LMP is also reputed for its customer service.

This acquisition enables FIJA group to increase its offer and accelerate its development in Europe, thus reinforcing its position as a major player on the Benelux market.

Marc Maupas, group Chairman, explains, "This acquisition fits exactly into our external growth strategy, started over a year ago. We want our clients to benefit from these new synergies."
Jean Michel Renard, the Group's Managing Director, adds, "This acquisition has taken place in the best possible conditions and in complete transparency with Bart van de Kamp, LMP director, meaning that we can now work together in close, quality cooperation".
Bart van de Kamp will now have the task of working with FIJA Group on its extension towards northern European, in step with FIJA's organic growth and acquisition strategy.

Alain SERVAIS, Managing Director of LMP will continue to manage his staff from Brussels and will implement an optimisation of synergies between the various companies in the FIJA group, working to serve its professional clients.
Brécé (France), 10th septembre 2014

Contact :
FIJA: Nathalie Rouxel - nathalie.rouxel@fija.fr
LMP: Alain SERVAIS - alain@lmppoolparts.be / www.lmppoolparts.be/fr/