A Warm Welcome from SPATEX Organiser, Michele Bridle to the UK's Number One Water Leisure Exhibition, SPATEX 2016, at the Ricoh Arena!



Michele BRIDLE
"Yes, after a year of planning, the milestone 20th anniversary SPATEX 2016 is here! And what a Show we've lined up for you! We've come a long way in our 20-year history and we would like all of our many and much-valued exhibitors and visitors, national and international, to join us in celebrating our journey and making us the UK's key event in the calendar.
"Not that we are resting on our laurels. Far from it, the Exhibition is continually evolving and growing in stature year-on-year and we are looking forward to even greater horizons in the future.
"I look forward to meeting you at the Show. New for this year, we have a dedicated SPATEX Welcome Desk at the entrance of the Jaguar Exhibition Hall. If you have any queries, whether it's a technical enquiry and need to be pointed in the right direction or wish to talk to the SPATEX team, please do pay us a visit. We can also help should you need help regarding hotel and restaurant bookings.


Come celebrate with us!
"As it's our birthday, SPATEX is hosting a Mexican themed anniversary networking event on Monday following the Show closing for the day at 5pm. All visitors and exhibitors are warmly invited for free drinks, nibbles, music and fun in the Ricoh Arena's Bar 87."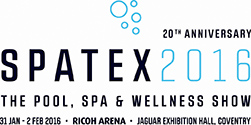 Highlights

The UK's biggest showcase of water leisure products and the largest facilitator of FREE Industry education and training has a great Show in store for you:

• Well over one hundred exhibitors from home and abroad

• The commercial sector. Please see Showguide for the full programme and visit
www.spatex.co.uk

• Twenty brand new topics in seminar arena one for the ISPE (Institute of Swimming Pool Engineers) workshops over all three days of the Show.

• Excellent exhibitor representation from spa companies such as Passion Spas, Wellis, Superior Spas, Elite Spas, Spa Crest, Aqua Via Spas, GMT Spas International, Certikin, Astral, Plastica, SCP, Coast Spas UK, Pollet, Aqua Spa Supply/Vita Spas, Hydrospares and Procopi.

• New companies never seen before at SPATEX such as Behncke GmbH, Brio, Cyrano Ltd, PHNIX Eco-Energy Solution LTD, International Business Development, Fibalon, Specialist Toughened Glass Ltd, Pool-dek, Aquinox, Trend GB, Morgan Bros, Rivierapool, Poolcover Manufacturer, BeauMosaic and Stoneworld.

• Returning to the SPATEX stable but new to the Exhibition's home at the Ricoh Arena (for the third consecutive year) are Total Water Products/Lo-Chlor, ProMinent Fluid Controls, JetStream UK Ltd, Sterling Hydrotech and JAK (at the time of going to press).

• For spa operators in commercial or business situations on Tuesday there will be a series of talks by experts from the Pool Water Treatment Advisory Group (PWTAG) from 10.00 till 14.45, including the latest guidance on Legionnaires' disease.

Thank you!
"Finally, I would like to extend a huge thank you to all our exhibitors and visitors who have come from far and wide and made SPATEX the success story that it is. We couldn't have done it without you!"