Company Dedicated to Helping Customers Around the World "Feel Good. Live Well.™"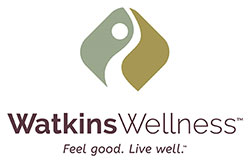 The world's largest manufacturer of hot tubs and maker of Endless Pools® aquatic fitness products, Watkins Manufacturing Corporation, has rebranded itself as Watkins Wellness, with a new logo and tagline, "Feel Good. Live Well." The Watkins Wellness mission is to deliver wellness solutions to homeowners around the world who live active lifestyles and are health conscious.
The company's growing portfolio of well-being products and systems for at-home use provides multiple pathways to wellness. Whether a consumer seeks a place for improved physical, mental or emotional well-being, or an environment to relax and reconnect with others, Watkins Wellness has developed a best-in-class product to meet those needs.
Watkins Wellness will leverage a 40-year heritage as an innovator of hot tubs that are sold in 70 countries around the globe. With the 2015 acquisition of Endless Pools®, Inc., Watkins Wellness expanded into the aquatic fitness business.
This evolution into the broader personal well-being space is now reflected throughout every aspect of the organization, including its new name and logo.
"We don't simply make products, we make wellness appliances that improve the lives of our customers," stated Steve Hammock, President of Watkins Wellness. "The strategic change to Watkins Wellness is a demonstration of our dedication to helping people achieve their well-being goals."
About Watkins Wellness
Watkins Wellness, established in 1977 in Vista, Calif., is dedicated to promoting wellness to consumers who live active lifestyles and are health conscious. The company manufactures the Endless Pools® line of aquatic fitness products, and is also the world's largest manufacturer of hot tubs, including Hot Spring® Spas, Hot Spot® Spas, Caldera® Spas, and the American Hydrotherapy Systems spa brands. The Watkins Wellness dealer network extends into North America and more than 70 other countries worldwide. Watkins Wellness is a wholly-owned subsidiary of Masco Corporation (NYSE: MAS), a Fortune 500 company whose products include Moores® kitchens and bathrooms, Hüppe® and Hansgrohe® faucets, bath and shower fixtures.
Press release, March 10, 2016