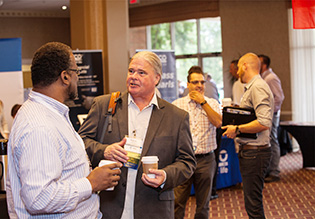 Paul reeves networking
The fourteenth annual World Aquatic Health™ Conference (WAHC), will be held October 18-20, 2017, at the Omni Interlocken Resort in Denver, Colorado.
The WAHC is an extraordinary educational conference where aquatic industry professionals discuss, learn, and network with like-minded people.
Every year, attendees proclaim how they come away with new objectives and information that directly relates to their field. WAHC 2016 ended with 410 attendees, making it the largest conference yet. It included international attendees from 13 different countries with speakers who hailed from America, Austria, Canada, Germany, and Spain.
This scientific conference is filled with seminars covering topics such as health benefits and aquatic therapy techniques, drowning prevention, facility management, public health, new technology, advanced chemistry/DBPs, advanced service concepts, and RWI prevention. Attendees can also expect pre- and post-WAHC meetings and events.
Numerous organizations, such as USA Swimming, CMAHC, Aquatic Therapy University, and Water Safety USA, conduct events surrounding the WAHC as conference attendees represent a convergence of the entire aquatic world, collaborating to learn and grow. The CMAHC will hold the second biennial conference, Vote on the Code, October 17-18, directly before the WAHC. If an organization would like to host a meeting that coincides with WAHC 2017, reach out to conference@nspf.org.
The WAHC also offers poster sessions, table top displays for sponsors and other non-profit organizations, a local insider's tour of facilities, a welcome reception, and a closing reception with prize giveaways, including a free 2018 WAHC registration or hotel reservation.
The National Swimming Pool Foundation® (NSPF®) is the host of the WAHC, and the conference team is once again working hard to compose a memorable and educational experience for all.
A Call for Papers is in effect until January 31, 2017 for all parties interested in speaking at WAHC 2017.

The conference team is ready to discuss sponsorship opportunities via email at conference@nspf.org or by phone at 719-540-9119.
Those interested in the WAHC are encouraged to visit the WAHC.org for more information. Early-bird registration opens on Monday, April 3, 2017.
Press Release