SPATEX 2018 gets off to a flying start with the rebooking of 2018 exhibition stand space a very impressive 36 per cent up on this time last year!
SPATEX Organiser, Michele Bridle says: "The team is delighted! Such strong sales reflect the quality of this year's Show and the confidence the Industry has in us repeating that performance next year. We never forget that SPATEX is only as strong as the sum of its parts so we thank everyone for their continued support and faith in us."
News about SPATEX
The new SPATEX website is online!
For the 2018 website, the organisers have used the same creative design team (ASP Design) who each year manage to come up with something unique and fresh. Featuring lovely new graphics (many of which are taken from this year's stupendous collection of BISHTA & SPATA award winning pools and hot tubs), the website is super easy to navigate, informative and interactive.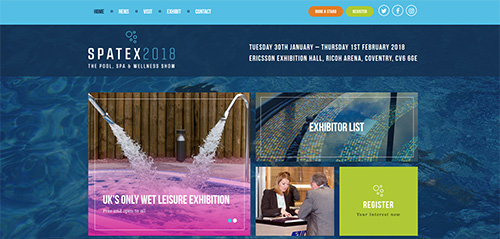 SPATEX team is already very present on facebook and has now added Instagram to its social media mix. It gives the team the opportunity to showcase beautiful pools, spas and wet leisure installations.
Lots to look forward to

"Each year we like to set the bar that little bit higher so we are currently engaged in ways of making the 2018 Show even more vibrant and relevant across all aspects," says Michele. "Lots of hard work is already going into the new ISPE Workshop programme which is such a cornerstone of the Exhibition. We know that our visitors really value the knowledge that the workshops impart and in 2018 we are looking to introduce some hands-on practical demonstrations – Mega-Demos as we are billing them!" Watch this space."