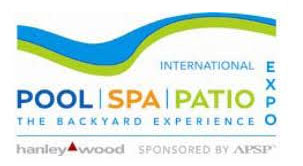 The session, Before and After the Storm: Disaster Safety, Prevention, and Response is tailored to the pool, spa, and outdoor living industry to assist them in education and servicing their customers when a natural disaster occurs.
The International Pool Spa Patio Expo will facilitate a panel discussion at the annual conference and exposition to prepare swimming pool servicers, builders, and other professionals on how to react when a natural disaster affects their customers.
The panel will be held on November 2, 2017 at the Orange County Convention Center in Orlando, FL from 2:30-3:30 pm.

"This very important discussion will address prevention and what to do after a natural disaster strikes. It is timely with the recent hurricanes," commented Tracy Garcia, CEM, Show Director of the exposition. "While residents are obviously more focused on more immediate concerns, service technicians, pool builders, remodelers, and other construction professionals will experience high volume once priority is given to rebuilding and repairing their homes."

Joanne McClain, Editor-In-Chief of Pool and Spa News, will moderate the panel, which will be comprised of these industry thought-leaders and experts on the topic:
• Terry Arko, Recreational Water Specialist /Commercial Sales at NC Brands
• Ray Arouesty, Senior Vice President at Arrow Insurance Service, a division of HUB International
• Jack Manilla, CEO/President/Owner at Portofino Pools
• Bob Vincent, Environmental Administrator, Florida Department of Health

"Disaster readiness now is a topic of paramount importance," said McClain. "This panel discussion will provide pool and spa professionals with practical guidelines on what to do in these trying situations – and how to do it. I'm excited to bring this valuable information to the pool industry."

All attendees can select the session for free while registering for the exposition. Qualified members of the press receive free press registration, which includes access to all special events, PSP Expo core conference programs, and the panel discussion.