The National Swimming Pool FoundationⓇ (NSPFⓇ), leading provider of pool operator training in more than 100 countries, is excited to announce an international partnership with the Ontario Recreation Facilities Association Inc. (ORFA), a leading provider of education, training, and certification for recreation facility professionals in Canada.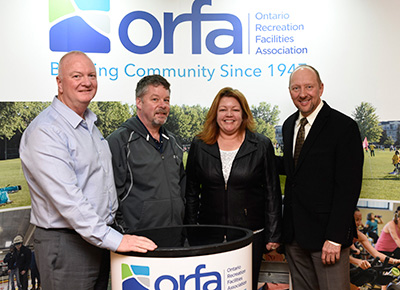 Effective immediately, NSPF and ORFA have formed an alliance to deliver NSPF's leading Certified Pool/Spa OperatorⓇ (CPOⓇ) Certification to ORFA recreation facility professionals as a replacement for ORFA's existing introductory course, Essentials of Swimming Pool Operations. NSPF will in turn promote ORFA's advanced level course, Aquatic Facility Operations - Beyond the Basics, and ORFA's professional designations Certified Aquatic Professional (CAP) and Certified Aquatic Technician (CAT). NSPF will also designate ORFA as the exclusive distributor of NSPF handbooks and exams within Canada.

"We are excited about this partnership for two reasons," stated Thomas Lachocki, Ph.D., CEO
of NSPF. "First, ORFA consistently demonstrates high ethical and professional standards and
we are honored to be partnered with such an organization. The second reason is less about the agreement, and more about helping better educate and elevate professionals in our industry."

The partnership provides more educational opportunities for pool operator technicians, from
entry level through to certification. NSPF and ORFA agree that the pool industry workforce must acquire a solid foundation of training in order to perform jobs exceptionally and to mitigate risk in and around pools and spas. This level of education elevates the knowledge and skill base of technicians who contribute to the health and safety of swimmers.

CPO Certification is the premier certification program for commercial technicians in the pool and spa industry, certifying more than 400,000 operators in 104 countries. Utilizing the most trusted and continuously updated information, CPO Certification provides recreation facility professionals with access to greater knowledge, skills, and techniques to maintain both public and commercial pools and spas.

"A timely and mutually-beneficial strategic alliance," is what John Milton, Chief Administrative
Officer of ORFA says of the partnership. "We are delighted to collaborate with NSPF to further enhance ORFA's existing aquatics programming and certifications. We are also thrilled to have NSPF with us in Toronto, Canada, to make the partnership announcement as part of our Facilities Operational Forum and Annual General Meeting."

NSPF and ORFA are extremely excited about the positive impact this partnership will have on
Canadian aquatic facility professionals. It will set a new standard for education, training, and
certification in Canada.
About Ontario Recreation Facilities Association Inc.

The ORFA was created in 1947 and incorporated in 1951 as a provincially-recognized,
not-for-profit, volunteer-driven recreation organization. The ORFA has over 6,000 members who operate and manage recreation facilities in municipalities, educational institutions, government agencies, First Nations communities and in the private recreation sector, including those businesses and industries that support the recreation sector. ORFA's mission is to provide leadership in the development and delivery of innovative training and education programs, value-added services, and quality products for the benefit of the recreation facility profession.