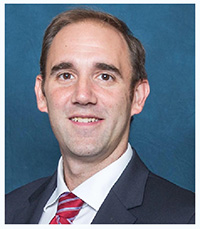 Dominick Mondi
New NESPA's Executive Director
The Northeast Spa & Pool Association would like to announce the selection of Dominick Mondi as the Executive Director of the Association effective January 22, 2018. This hire is the completion of a months long executive search process.
Currently, Dominick serves as President of the Associated Building Contractors, New Jersey Chapter and he previously held the position of Executive Director of the New Jersey Nursery and Landscape Association. He began his career as a landscape architect, receiving a BS from Rutgers University. Over the last decade, he has coupled his experience as a landscape architect and small business owner with extensive work managing and growing trade associations.

"At the start of this process, we spent a lot of time thinking about our current needs and our future goals for the association," said NESPA president, Ronald Falcioni. "In the beginning, it was hard to imagine finding the candidate that would meet our diverse requirements but as the search process moved forward Dominick quickly stood out as the best fit for NESPA and our culture as an association. We are excited to welcome him to the NESPA family."

"It's an honor to be selected as the next Executive Director for NESPA," added Mondi. "I look forward to building relationships with members across the region and to work with them to achieve NESPA's mission of advancing the pool and spa industry."

Dominick will become NESPA Executive Director on January 22nd as Lawrence Caniglia, who has been Executive Director since 2004, steps away from the organization. Among the first tasks for Dominick will be attending the 2018 Pool & Spa Show in Atlantic City (January 22-25). Members can look forward to having the opportunity to meet the new Executive Director at NESPA Membership Suite and other events taking place at the Show.

Thanks are extended to Executive Transition Task Force, chaired by George Kazdin (Kazdin Pools and Spas). Other members of the Task Force included Bob Baron (Baron Pool Service), Bob Blanda (Mill Bergen Pool Center), Ron Falcioni (Darien Pool), Mitch Katz (Elite Landscaping), John Lochren (Solar Pool Enclosures of New York), Jeff McGalliard (Premier Pools & Spas), John Romano (All American Custom Pools & Spas), Amy Rullo (Premier Pool Renovations/Aquatic Artistry), and Mark Washaw (Bel-Aqua Pool Supply). Thanks also go to the entire Executive Committee and NESPA staff, for their ongoing support and participation in the search process.
Press Release