A promotion for pool professionals and consumer
Consumer rebate offers
Exclusively reserved for pool professionals who are members of Pentair's PIP program these rebates offers will run from May 1st to August 31st, 2019. On the loyalty program partner's side, these rebates offers aim to preserve fair prices point and therefore the margins of the dealer partners, regarding the products of the TradeGrade by Pentair range.
On the consumer side, the operation allows recovering part of the purchase price of the product, up to a maximum of 20%. The offer satisfies both customers and PIP member resellers.
A straightforward refund procedure
To apply these refund offers the reseller just needs to sell (only in store) the eligible TradeGrade product at a VAT-inclusive price higher than or equal to the price indicated on the flyer during the offer period. The refund procedure for end consumers is straightforward and is described in the rebate flyers specific for each eligible product. He just needs to fill up the form on the website and upload his proof of purchase. Pentair will then validate his request and transfer the amount of the corresponding refund to his bank account.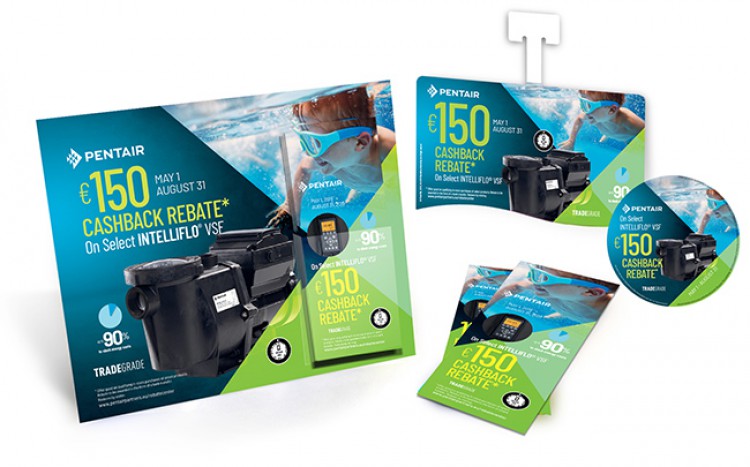 POS kits
POS kits for PIP member reseller partners
Existing PIP members or those who want to enroll the program have to complete an online form to participate in the operation (available via PIP Scanner app or marketing.poolemea@pentair.com) and can consult there the conditions of the offer in detail.
The first registered participants will receive free product-specific POS kits (IntelliPool, Maestro, IntelliFlo VSF, VS2 Pumps, BlueFlo, Triton NEO ClearPro, Poseidon ClearPro, SC-75), including shelf talkers, hang signs; counter cards and a set of rebate flyers.