The UK's ONLY dedicated water leisure Show from January 28 to Thursday January 30
Just under three weeks to go before SPATEX 2020. The UK's ONLY dedicated water leisure Show opens its doors from Tuesday January 28 to Thursday January 30 at Coventry's Ricoh Arena. Not-to-be missed, it's your first opportunity to gain an insight into all that is happening in the international water leisure industry in the decade ahead.
So, what are you waiting for! Hop on a plane to the UK and then get a lift on us: SPATEX is offering a FREE TAXI from Birmingham Int. Airport (20 minutes away) for all international visitors. Please provide Michele or Helen in the SPATEX office with your flight details ([email protected] and [email protected]) and they will do the rest.
Walk the walk
There is masses to see including 39 spa related companies displaying a wealth of new spas such as the stunning new one from Villeroy & Boch. Nine of these spas will be filled with water along with two swimspas and four swimming pools. From new exhibitors to new products, the Show is packed full of new innovations and new products. For example, receiving it's SPATEX debut is the Astral PLAYA - an elegant mini pool created with more than a nod to stylish Italian design. Perfect for terrace or decking, the PLAYA offers heated water, a gentle hydro-massage, and the pleasant feel of hand-woven fibres.
Of interest to everyone, the 2020 Show is all about saving energy and money. This 24th edition aims to lead the way in showing how we can aim for a more energy efficient, environmentally friendly future. From energy saving inverter heat pumps and variable speed water circulation pumps to environmentally friendly spa filter cleaners, an above-ground pool made from recycled plastic bottles and insulating pool covers.
Take advantage of special show discounts and offers such as this huge money-saving SPATEX-ONLY offer from Fairlocks - any registered enquiry at the Show of its stunning LPW one-piece pool that turns into a sale, will have a FREE Xanus counter current unit installed worth a whopping £3,146.
Hear the talk
ISPE - the provider of the Industry's greatest source of FREE knowledge is staging 22 different sessions throughout the three days of the Show, of which 16 are new titles and six are promoting Green issues (these are highlighted in green on the website and in the Showguide). For example:
Wednesday January 29 11.00 (Arena 1) - Energy Savings for your Pool
Wednesday January 29 13.30 (Arena 1) - Energy Savings via the use of Automatic Valves
The parallel seminar programme in Arena 2, also has Green themed talks amongst its diverse range of topics:
Tuesday January 28 16.00 (Arena 2) Manufacturing more environmentally friendly hot tubs
Wednesday January 29 15.00 (Arena 2) Inspiring your Team to be Green
CPD points and certificates of attendance are available to all attendees of the ISPE workshops in Arena 1.
For lighter entertainment, Olympic Gold medallist, diver Jack Laugher MBE, will be on the CPC stand (B34) on the Wednesday of the Show from 9.30 to 11.00 and is happy to take questions about his illustrious career to date.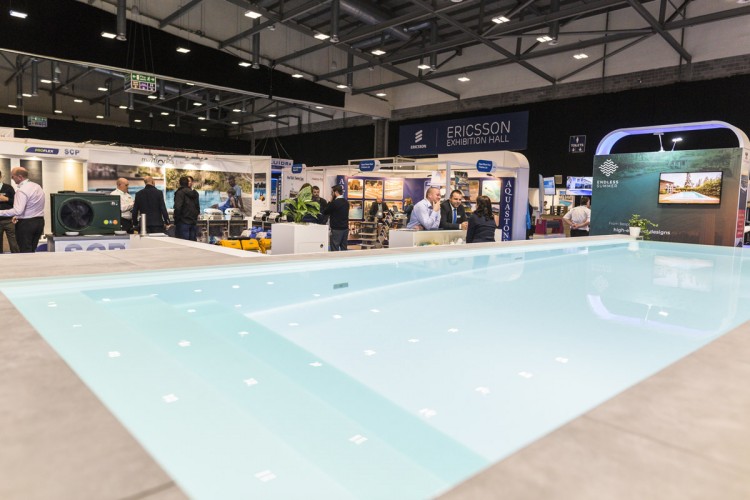 The Niveko one piece pool supplied in the UK by Certikin International
Learn from the experts
With all the experts in the Industry gathered under one roof, there is no better place to seek guidance on a specific project. There's nothing like someone showing you how it should be done and ISPE will once again be showcasing its expertise. Leaks in pools and spas are the bane of a pool builder's life - Leak Detection masterclass 13.30 - 14.30 on Tuesday 28 January in Seminar Arena 1. Plus, Pump Strip-down masterclass 12.30 -13.30 on Wednesday 29 January in Seminar Arena 1.
Join us at the Green Party
The Green theme extends to the now famous SPATEX networking party on the Wednesday evening in the Ricoh Arena's Clubhouse Bar. It starts straight after the exhibition closes at 5pm and all exhibitors and visitors are warmly invited. We will supply Green hats (of course!), drinks, nibbles and you supply the chat. This follows on from the 'Oscars of the Industry' at the 2020 British Pool & Hot Tub Awards Gala Evening (hosted by BISHTA & SPATA) on the Tuesday .
For more details and to book places, please contact Jan at the BSPF offices: E: [email protected] T: 01264 356210/1. Everyone from the Wet Leisure Industry is invited to attend and hurry. Closing date for bookings is Friday January 10.
Registration is FREE and OPEN at www.spatex.co.uk SPATEX 2020 - Tuesday 28 January to Thursday 30 January. The Ericsson Exhibition Hall, Ricoh Arena, Coventry CV6 6GE is easy to get to - just 500 yards off the M6 and within two hours commuting time of 75 per cent of the population, it offers 2,000 free car parking spaces.