Superior Wellness is celebrating after its triple award success in the recent UK Pool and Spa Awards 2020.
After a challenging but rewarding 2020 the team at Chesterfield based Superior Wellness were successful in winning three awards at the prestigious event held virtually on 10 December 2020.
Awards in different categories
The first accolade was for UK Team of the Year - the team has doubled in size in the last 12 months to cope with the demand and to strive towards their future growth plans. The culture and people are of upmost importance at Superior Wellness which is why people love working there. The team really went the extra mile in 2020; helping partners draft Covid guidelines and contactless delivery guides plus delivering hot tubs for them to enable them to keep staff on furlough during this challenging time.
The second award was for Best Marketing Initiative - this was for Notion, their online platform with training and development for partners, technical team and delivery drivers plus training for our online CRM system. It is a comprehensive online platform with a library of manuals and videos to help our teams and partners - this was vital in 2020 due to social distancing and not able to undertake training face to face.
And finally Nic Walker was awarded Spa Technician of the Year. Nic started at the age of 16 in the hot tub industry working for then Superior Spas. Five years later he is now the head technician and looks after 90 dealers across the UK. He is reliable, loyal and a popular team member - always with a smile on his face. Nic provides exceptional customer service and receives excellent reviews. Nic is extremely professional, never complains and just gets on with his job despite long days travelling. A credit to the company.
Superior Wellness also received a Gold Award in the Best Marketing Initiative category for the Superior Spas website which launched in August 2020 and a Silver Award for the Platinum Spas Barcelona hot tub in Product of the Year.
Rob Carlin, Managing Director at Superior Wellness said: "It is a great honour for us all to end the year with the award success, the team have been working hard all year and it's great to see that all of their hard work has been recognised. I am extremely proud."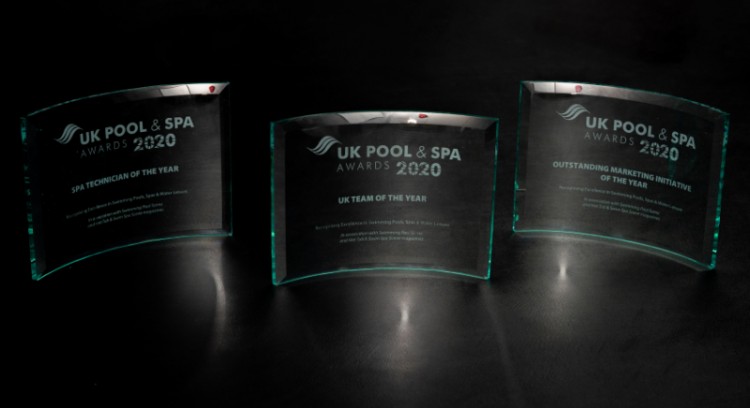 The three
UK Pool & Spa Awards for
Superior Wellness
The UK Pool & Spa Awards celebrated it tenth anniversary

Showcasing the best examples of spa and home wellness design from across the country, the UK Pool & Spa Awards celebrated it tenth anniversary with featured projects and products. Investment in back garden hot tubs and swim spas has soared by an estimated 75% across the domestic water leisure sector in 2020 as home owners, unable to holiday during the global pandemic, instead opt to invest in wellness on their own doorsteps.
Winners across 30 categories were announced during a virtual presentation that, due to Covid-19 limitations, replaced the traditional face-to-face business networking and gala dinner format. The 196 entrants were awarded gold, silver or bronze standard in the competition covering both home and public pool and spa facilities in a contest that attracted over 2,000 on-line votes and votes from judges, before being scrutinised by an independent jury.
More information on the awards, including a full list of winners, can be found at www.ukpoolandspaawards.co.uk.