BSPF Managing Director Chris Hayes updates Eurospapoolnews readers on what has been happening in the UK wet leisure sector over the past 12 months, highlighting some key items to look out for in 2021.
The UK Pool and Spa Market continues to be strong
The effects of the COVID-19 Pandemic on the UK Pool and Spa Market
There can only be one place to start when reviewing the last 12 months, and that is with the devastating impact that Coronavirus has had on the UK. There is, of course, the economic impact, but also the social impact of remaining distant from people and the consequences of so many fatalities (already past 72,000 people in the UK as I write this article). Public swimming pools have been majorly affected by closures numerous times this year. There is now a serious risk that this could lead to a number of them being permanently closed unless local community groups can find a way to fund and resource them. This has had a significant impact on companies that rely on servicing, maintenance and/or pool construction in this sector.
While public pools have taken a hit, the domestic sector has been booming, for pools, hot tubs and other wellness products such as sauna & steam. Hot tubs have been in the news all year as the 'must-have' item whether an inflatable hot tub or the rigid higher-end versions, with sales increasing on average by between 400 - 500%.
The main issue has been sourcing sufficient components to manufacture products to deal with the demand. It is not unusual to have some products (especially bespoke items) taking up to 12 months to be delivered. Due to the increased demand and reduced supply, other factors have begun to influence the market, such as container costs when sourcing products from continents such as Asia.
Congratulations are due to PWTAG for their multi-agency approach to providing information to the industry regarding COVID-19 and pool water treatment. Both BISHTA and SPATA have contributed feedback to these technical notes.
Professionals have to stay up to date
With physical meetings largely being discouraged in the UK, businesses (and especially trade associations) have had to adapt to ensure that vital information can be imparted. BISHTA and SPATA have for many years been used to working as committees, but the challenge is how to encourage all members to gain the information they need online. A series of webinars were organised in March and April to stay in contact with members and provide updates on the 'lockdown' with what was possible in business terms. The webinars were also a chance for members to get feedback from their peers about responding to the challenges.
Although it was hoped that the annual information days might be able to go ahead in the Autumn face to face, it became clear that the virus' prevalence would make this impossible; therefore, these events were run virtually for the first time. And to aid accessibility, a number of the sessions were recorded and shared with members who could not attend.
Education
The demand for education, often referred to as Continuing (or Continuous) Professional Development (CPD), has been fuelled by a temporary lack of supply of some courses at specific points during the year.
Some water hygiene courses were possible to be delivered face to face in small, socially distanced groups thanks to the professionalism and dedication of the BISHTA tutors. An online version is being rolled out to cover the theory section, and when it is safe to do so, the practical elements (such as water testing) will be revisited as a face-to-face section.
BISHTA has also been very proactive with its electrical partner (NICEIC) regarding the electrical final installation qualification it provides to the industry. The three-day course has been revamped so that the first two days can be delivered online and then the third day, covers all of the practical task and tests. The third day is undertaken with smaller groups on a regional basis to maintain the participants' and tutors' safety. BISHTA is also very proud of the work undertaken in partnership with the Pool and Hot Tub Alliance (PHTA) formerly referred to as the Association of Pool and Spa Professionals (APSP) and their Certified Hot Tub Technician (CHTT) course. This work has been possible due to the hard work of Chris Brady at SpaTech Training (and 1 Stop Spas).
The theme of workforce education is also covered later in this article under the subject of WAPSA.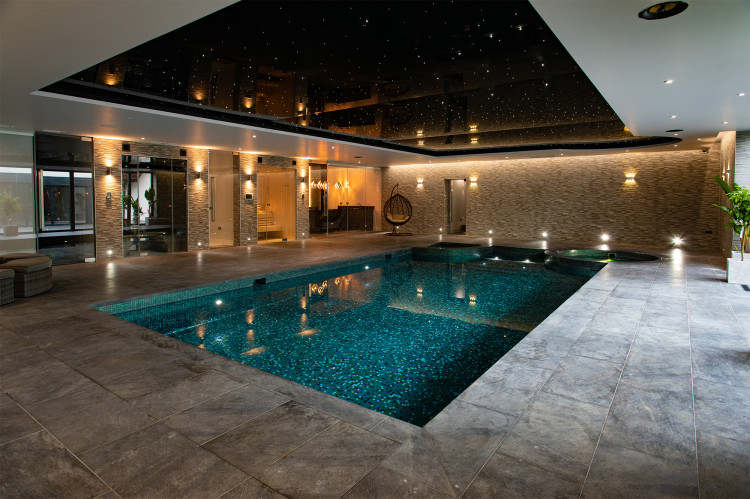 XL Pools: British Pool & Hot Tub Awards - 2021 SPATA Winner's -
Residential Indoor Pools £125,000 to under £175,000 - Silver Award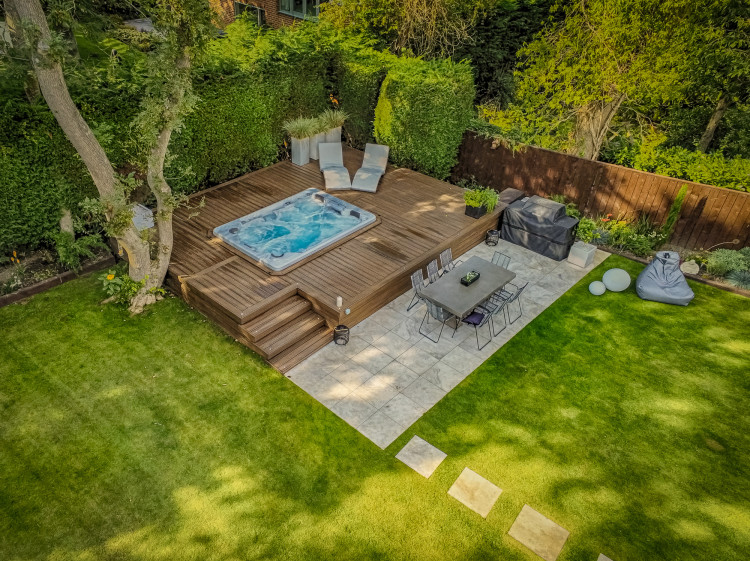 BISHTA members and 2021 British Pool & Hot Tub Awards winner - Residential Hot Tubs £14,000 and Over - Gold Award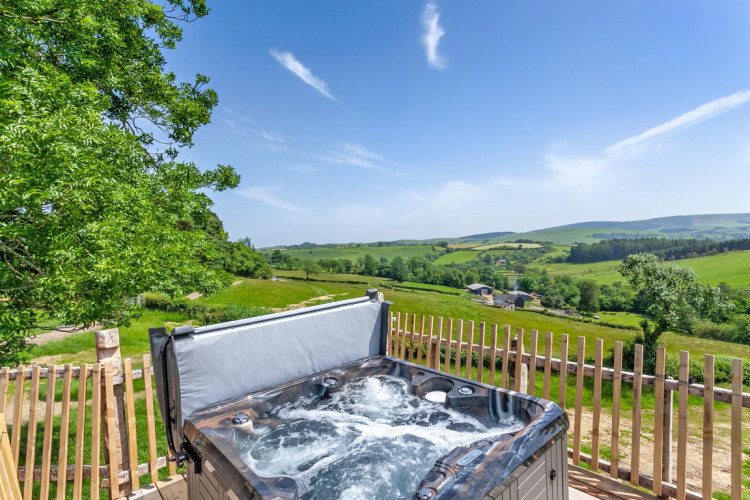 BISHTA members and 2021 British Pool & Hot Tub Awards winner -
Hot Tubs in a Holiday Setting - Welsh Hot Tubs - Gold Award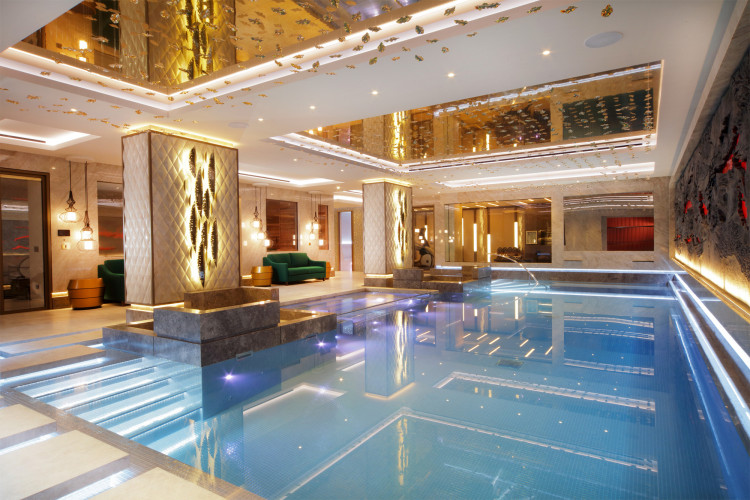 British Pool & Hot Tub Awards - 2021 SPATA Winner's - Residential Indoor Pools over £175,000 -
Whitewaters - Gold Award
Other actions for the profession
SPATEX
SPATEX also plays a vital role in CPD each year by bringing exhibitors and visitors together to share the latest news on available products and services and provides a platform for seminars. The workshops provided by the ISPE, STA and PWTAG are greatly respected.
With the timing of SPATEX 2020, it was possible to have a safe show back in January of last year, before the first UK lockdown. While it had been hoped to organise the 2021 show in Coventry, it became clear that there was no certainty that the event could take place in person in February 2021. Therefore, the decision was taken to find a virtual platform provider. With the support of many exhibitors', a decision was taken to proceed with the first-ever SPATEX virtual show.
With the 2020 show being a financial success (and as SPATEX is run 'By the Industry, for the Industry') more money could be ploughed back into supporting the wet leisure sector's promotion. Some of the funds raised are put into the SPATEX Foundation, set up to ensure the industry can assist with funding items or initiatives to benefit the wider industry. The categories covered by the Foundation, which can be applied for are:
Training
Education
Research
Sponsorship / Charitable donations
The SPATEX Directors oversee the SPATEX Foundation, and it can receive applications (using the official application form available to download via the website) https://www.spatex.co.uk/spatex-foundation at any time of the year.
I hope you have a great time while you are virtually at SPATEX!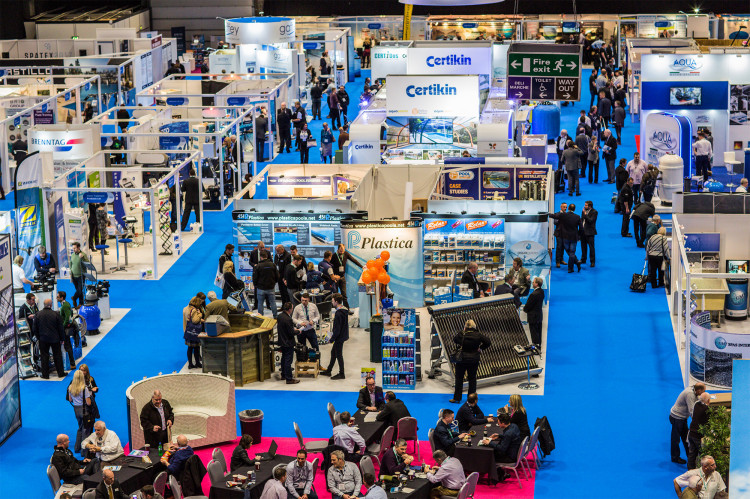 SPATEX aerial view
Standards
Education reinforces knowledge, especially thorough understanding and following industry standards for domestic and commercial pools, hot tubs, saunas and other wellness products. Irrespective of whether standards are developed just in the UK (British Standards), as European standards (BS EN's) or as international standards (ISO or IEC), they need to be known about and adhered to or ideally bettered.
With the UK having now left the EU, it is often asked by professionals; Are European standards still relevant? And the answer is yes! As the European standards are developed by industry, not EU institutions, they remain applicable to harmonise standards, for UK companies wanting to sell into the EU.
Both BISHTA and SPATA have been very proactive in representing the UK in developing standards (especially for domestic use). SPATA, notably, has recognised the importance of making available the knowledge in standards by negotiating with the BSI to have 25 of the most relevant standards in an annual package called British Standards Online (BSOL) available to members for just £75+ VAT per year!
Work has been adversely affected on developing some of the new standards (e.g., public spas, public sweat rooms and domestic pool environmental impacts) due to the lack of opportunity to get together in person. However, the domestic pool group have used online meetings to reduce some of the delays. SPATA continues to be represented on these working groups, and I am very grateful to Patrick Thorpe and Will Dando for their commitment.
EUSA and WAPSA, an opportunity to work with colleagues overseas
There is a great deal of talent offered to the trade associations in the UK to ensure that members and the wider industry can benefit from the knowledge gained over many decades. This expertise is directed towards the committees and also to the inspectors to offer guidance to members.
There is valuable support available outside of the UK from links with National Pool and Spa Associations, especially in the European Union of Swimming Pool and Spa Associations (EUSA). This group of 12 countries is an industry body, not an EU institution, but it can lobby the EU on our industry matters. The group met, as usual, this March (the venue chosen was Brussels) just as some European countries started implementing their COVID-19 lockdowns (and so attendance at the meeting was less than usual). Since then, EUSA has met online in September and December to work on matters such as the European Pool and Spa Awards which have just been announced. Congratulations to all of the Gold, Silver or Bronze award winners. Other important matters include the need to be aware of regulations relating to the pool and hot tub industry.
In addition to EUSA, there is also the World Alliance of Pool and Spa Associations (WAPSA). While WAPSA is not a membership organisation, it brings together National Pool and Spa Associations worldwide to meet and share information and experiences.
The main sub-groups focus on data/statistics, education, safety and environmental sustainability. The 2020 WAPSA meeting had been due to take place at Global Piscine Europe in Lyon (firstly in November 2020 and then in February 2021). With this exhibition now cancelled until 2022, a decision was taken to ensure the WAPSA event happened online; therefore, the WAPSA meeting is now taking place on Thursday 4th February 2021 as part of the SPATEX activities. WAPSA will be sharing ideas on the above sub-group topics and lessons learned from COVID-19.
#everydaycation - the UK industry's national PR and Marketing campaign
From a UK perspective, many of the potential negative impacts from COVID-19 were largely able to be turned around by a combination of great weather for March to May (during the first lockdown) and a proactive industry PR campaign entitled #everydaycation.
It became apparent in Spring 2020 that the UK would be majorly affected by COVID-19; therefore, the Pool Industry Promotions (PIP) committee set plans to create a national campaign that would benefit the industry as a whole. Overseas travel restrictions and a nationwide lockdown were crucial influencers in consumers buying behaviours, with the demand for home and lifestyle improvement products and services soaring, and staycations becoming the preferred holiday choice.
Working with a multi-channel communications agency, PIP launched the #everydaycation campaign, with the strapline; its, not a vacation, or a staycation, it's an everydaycation!

PIP created an opportunity to provide an influential voice through the press and media to convert consumers into buying. The evaluation results of the 2020 campaign have proved extremely successful; therefore, further discussions have taken place with our campaign agency to develop the campaign. And in November, PIP met for their annual strategic planning meeting and intend the #everydaycation campaign to continue during 2021.
BREXIT
Any review of the last 12 months has to mention the UK's withdrawal from the European Union at some point! The BREXIT transition requirements have been uncertain for much of 2020, despite the government's efforts to fill in as many of the blanks as was possible without knowing if a free trade deal could be struck. The fact that there has been willingness to seek a compromise is testament to the negotiators' dedication and the common-sense from the politicians to find a way forward.
There is still much work for the trade associations to clarify what the additional bureaucracy will now involve when importing goods into Great Britain from the EU. And how the Northern Ireland Protocol may add to the complexity, with CE marks, UKCA marks and a UKNI mark about to become more familiar to us.
The effects on product availability due to COVID-19 issues and possible delays at borders remain unknown but will have been attempted to have been addressed in business continuity plans and risk assessments. The knock-on effect for trade and retail prices is also an unknown, but again, forecasts will have been carefully assessed.
With a continued presence for the #everydaycation campaign, some good weather and a tremendous amount of tenacity, 2021 could be another successful year for sales and the increased demands from customers wanting to ensure they can guarantee their time off is fulfilling by the guarantee of improving their home life wet leisure products, rather than experiencing a thwarted holiday booking, from the introduction of more COVID-19 restrictions that scupper their plans.
Market confidence
In the UK, with all the above positives and negatives mentioned, the overall market for pools, spas, hot tubs, sauna, steam, wellness and associated wet leisure products and services has continued to evolve and grow, despite the apparent setbacks (such as public pools).
Feedback from the Wet Leisure Survey (undertaken by Golden Coast with support from the BSPF) has been optimistic in the past few years. It will be interesting to see the results from the 2020 review when they become available to share at SPATEX 2021. The Wet Leisure Survey provides a useful qualitative overview each year on the market's state, providing valuable insight into the industry.