CF Group and its Benelux subsidiaries are pleased to announce the much-awaited comeback of the physical Poolfair for 9 February 2023. Registrations to attend the Benelux Poolfair Summit 2023, with a focus on the pool and wellness sector, are open from 15 December to 31 January. Don't wait to sign up!
Benelux Poolfair Summit 2023: a rich day of information concerning the pool and wellness sector
Even though the digital edition was a true success (largely due to the many professionals who visited the platform), the decline of the pandemic enables professionals from the pool world to gather together once again for this major event for the pool and wellness industry.
The last three years have presented numerous challenges. They have required a certain amount of adaptation, creativity and innovation. For 2023, the Poolfair website will again be present and will provide digital support for the physical edition, which will take place on 9 February 2023. Registration is open until 31 January 2023.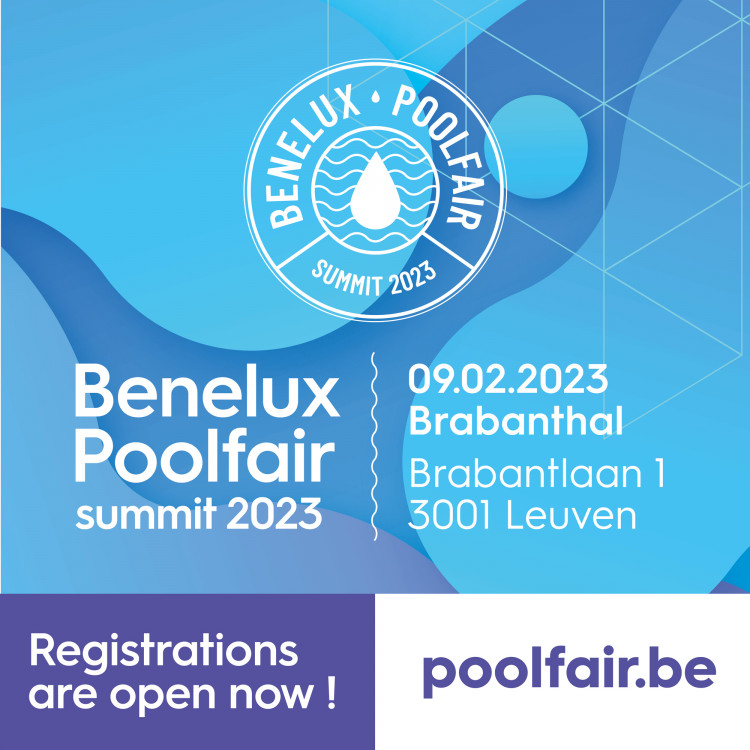 As organiser of Poolfair, CF Group does not intend to simply repeat the success of previous years, but rather create a new, one-of-a-kind event. However, the main goal remains the same: to maintain a privileged contact with the professionals of the sector.
The 'Benelux Poolfair Summit 2023' promises participants a rich day of information on the pool and wellness sector, its products and innovations for 2023. Moreover, the group's partners will provide seminars, dozens of video podcasts, a host of interactions, a competition and much more. Professionals will benefit from numerous advantages and exceptional discounts. There will be many prizes to win, including trips, gifts, goodies, etc.!
Don't miss this keynote event for the Benelux market
Sign up today!
(Registration is open from 15 December 2022 to 31 January 2023).
CF Group is raising the bar for its big comeback in a physical format. The 'Benelux Poolfair Summit 2023' will take place in the famous Brabanthal centre in Leuven. During this day, attendees will be able to visit over 2200 sq. m. of exhibitions, discover the stands of partners and the CF Group, participate in seminars that will offer a wealth of information and finish the evening with a festive 'walking dinner'.
The teams at CF Group are looking forward to hosting professionals for the 'Benelux Poolfair Summit 2023'.
Here is a brief list of the official partners of Poolfair 2023: Roldeck, Ocea, Hayward, Aquatic Science, Speck, BIO-UV, Cristalis, Espa, Lighthouse, Nodipool, OSF, Pahlen, Duratech, Seko, Sorodist, Waterco and many more.