Which highlights are our neighbours bringing with them, aside from their culinary delights? It will be exciting to see what they unpack.
«It's enough to make you melt» is not a rare sentence when talking about Switzerland. The lakes, the air, the culture, the climate and, of course, the culinary delights. We're not the only ones melting - the well-known raclette cheese and the typical Swiss cheese fondue also melt delightfully. These culinary highlights are now found as traditional dishes in many households for Christmas and New Year's Eve. Just one of a number of things we have copied from Switzerland. And there are certainly many other things about Switzerland that we may find helpful. Let's start right away and jump into the Swiss waters.
Switzerland is no stranger to indulgence
Colleagues from Switzerland also have a lot to offer in terms of swimming pools and wellness. And so we are all the more delighted that Switzerland is this year's partner country of the international trade fair, aquanale. The international industry meeting of the finest selection of swimming pools, spas and wellness facilities begins at aquanale in Cologne on 24 October. After the best of the best have been elected at the EUSA Awards ceremony, aqua suisse invites you to an aperitif in keeping with Swiss tradition. This is the best opportunity to get to the bottom of the Swiss swimming pool industry and to share ideas during interesting conversations. Because although the saying goes that too many cooks spoil the broth, nothing is as innovative and idea generating as a lively and expansive exchange.
Sustainability - Switzerland also faces current challenges
Every country and every culture has its own focuses and approaches, but the core areas ultimately affect everyone. Areas such as «Green Swimming» in line with energy efficiency and water management, digitisation and the recruitment of skilled workers are very topical subjects and challenges that Switzerland is facing too. How are these issues being tackled and what are their approaches and demands? Which product innovations do they have in store? Answers to these questions and other subjects will be provided in the lectures at the aquanale congress and at the international swimming pool and wellness forum.
Welcome to the «Switzerland branch» of Cologne
From 24 to 27 October, a world of knowledge on saunas, pools and ambience opens its doors at aquanale in Cologne. Welcome to the Rhine, which is also the home of Switzerland - or more precisely Hall 7, Stand C 40. Free ticket available with the code «bsw23», directly redeemable on the aquanale website.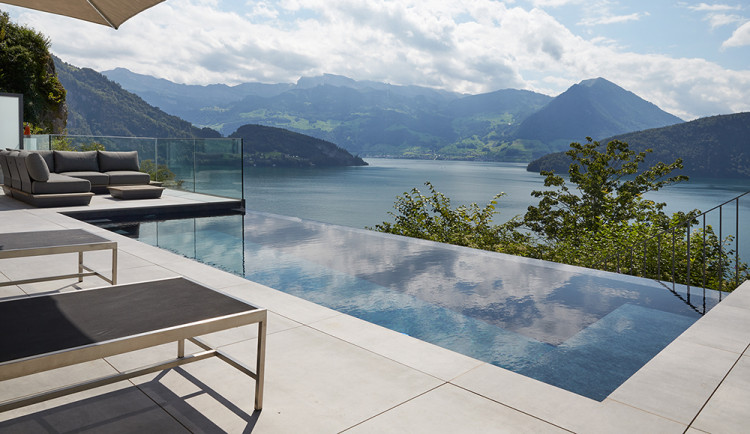 This is the most beautiful private outdoor pool in Europe, created by VITA BAD and awarded the golden EUSA-AWARD 2022.