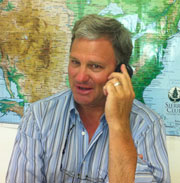 Jeff BOYNTON, CEO


Delta UV Corporation is an American company based in Los Angeles, California and a 100% subsidiary of BIO-UV.
This company manufactures and markets among professionals, several ranges of devices that emanate UV-C that disinfect the water of pools – residential and public, spas, fountains and ornamental pools.
The series in PVC are very competitive and efficient and all the series for pools and spas are
NSF 50 certified
, which ensures total compatibility and efficacy. It is one of the few companies in the United States that has been certified for low and medium pressure.
It currently has a team of 12 and looks to attain a turnover of close to $4 million in 2010.
Delta UV participates in numerous scientific conferences and trade shows and is a member of the NSF Standards Committee as is BIO-UV.
Delta UV
committed to the same values as its parent concern,
BIO-UV
, that is:
- The effectiveness and efficacy of the solutions proposed,
- The quality and reliability of its products,
- Responsiveness and service.

All the ranges of products manufactured by Delta UV are marketed by BIO-UV outside the U.S. and Canada.