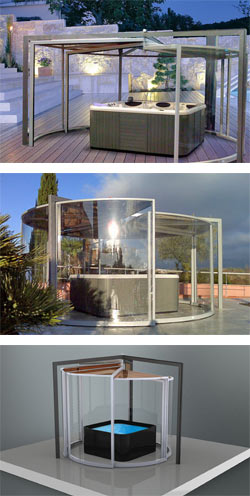 In its new 2010 catalogue, Abrisud launches its new and unique patented spa shelter. It is a shelter with walls that are fully adjustable.
It can be opened out to 300° for a panoramic view
of the landscape. Each of the partitions can be moved independently of each other.
The system, with multidirectional opening is mounted on a tripod hyper-structure around a suspended central stainless-steel axis. The elements are assembled on this axis, allowing rotation of the modules.

These can be fixed or opened at any point for greater comfort.
The roof is composed of 8mm honeycomb polycarbonate, while the walls are made of transparent 4mm polymethyl, all of which are treated anti-UV.
Around each module, nylon bristles prevent the intrusion of any plant or animal, and reduces heat loss. A shelter that combines both design and convenience.