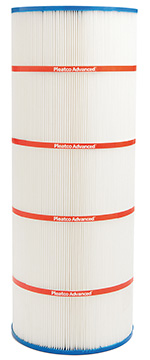 Introducing new Pleatco FilterWash a fast acting fizz cleaning tablet specially formulated to penetrate deeply into any reusable filter cartridge and remove the accumulated materials such as suntan lotion and oils, body oil, grease, dirt, soap scum and other organics.

Unlike other cleaning agents, Pleatco FilterWash comes in individual formulas - one for pools and one for spas, scientifically engineered for each environment.

Pleatco FilterWash is environmentally friendly and requires no measuring and no messy chemicals.

Extremely easy to use, each Pleatco FilterWash tablet cleans thoroughly up to two filter cartridges and allows them to return to a high level of original performance without harming the filter.