In partnership with Solem, Pool Technologie has developed e-Pool® Connect, a full range that meets the various needs of the market in terms of remote pool management. From the simple float to the connected pool kit (clock + relay antenna), this set of modular solutions enables the remote management of pool equipment.
A full range to meet the various needs in terms of remote pool management
To make the technical room communicative, two modules, e-Pool® Connect and e-Pool® Connect VS (if equipped with a variable-speed pump), enable smart communication between the filtration and water treatment systems and 2 auxiliaries with the command module located in the technical room. Depending on the model of the Bluetooth-equipped device, users can use the mobile application to configure setpoints and the mode of disinfectant production, launch an overproduction and regulate chlorine and pH.
The connected float continuously analyses the parameters of the pool water (pH, ORP, temperature) and feeds back on anomalies in real time, triggering notifications for corrective actions on the app.
In contrast, the indoor analyser is directly connected to the hydraulic system in the technical room. It measures and analyses the quality of the water and its flow through the piping. The measurement history is saved.
As for the filter pressure module, which is equipped with several safety features, it warns the user in case of over-pressure, under-pressure or when automatic washing is to be performed.
This auxiliary equipment must be connected to a relay antenna to enable the communication of data in real time on the MyINDYGO application and the myindygo.com web platform (free of charge and no subscription required).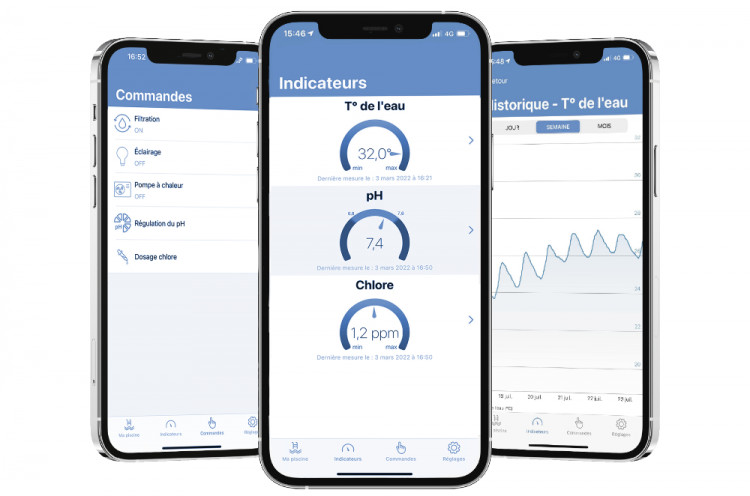 MyINDYGO application