The Pool Technologie range of systems for dosing and regulating treatment products for family pools consists of 2 devices: Dosipool Pro and Dosipool Ampero, offering fully automated treatment.
A range of systems for dosing and regulating treatment products for family pools
The first is a chlorine dosing system with a precise pH regulator and controls chlorine injection via an ORP probe. This probe measures the condition of the water and controls the injection of disinfectant according to preconfigured setpoints. Dosipool Ampero regulates chlorine injection via an amperometric probe (notably recommended for the continuous control of the chlorine content of indoor pools).
Both dosing devices are fitted with a pH regulator. This latter precisely injects the corrective product in proportion to the volume of the pool and the measured pH rate. Predictive, it analyses the efficacy of the most recent injection to correct it if necessary. They incorporate a Bluetooth chip that enables either local pool management, via the e-Pool® application, or remote management with the entire technical room thanks to e-Pool® Connect (optional). Both apps provide access to setpoint configuration and measurement values, and enable users to receive alerts.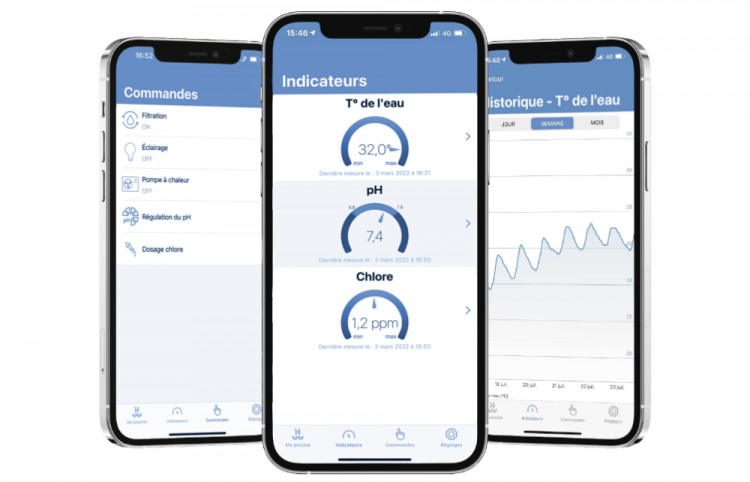 The e-Pool® application

The panel option offers a pre-assembled, ready-to-use solution. Thanks to their respective measurement chambers, the various probes (Cl and pH or Cl and ORP) precisely analyse the parameters sheltered from any disturbances caused by water pressure in the piping.
For collective pools, both the Pro Dosing ORP and Pro Dosing Ampero models enable pool professionals to choose the flow rate (from 0.5 to 115 l/h) and the technology of the offset pumps: peristaltic, electromagnetic, electromechanical.