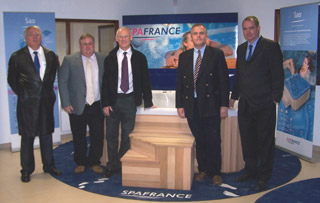 Mr Jean-Marc LATREILLE (Managing Director of PROCOPI),
Mr David Dahl, Mr Paul Jeffries, Mr Tim Harris
and Mr Matthew Ransom (Export Coordinator of PROCOPI)

The specialist pool and spa products manufacturer Procopi has created a UK subsidiary based in Kent in South-East England.
Scheduled to start trading on 7 January 2008, Procopi UK has been founded by three well-known participants in the UK pool and spa market, Tim Harris, Paul Jeffries and David Dahl – who have 70 years' experience of the sector between them.
The company will distribute pool and spa equipment from the Procopi Group to pool professionals in the UK and Republic of Ireland, and will be an exhibitor at the UK Spatex trade show in February.
In line with the group's sales strategy, Procopi UK will deal solely with the trade, with a sales counter also offering products, advice and technical services.
Procopi UK will also be distributing the Spafrance range of spas, manufactured in Brittany.
Email : marketing@procopi.com

Site web : www.procopi.com