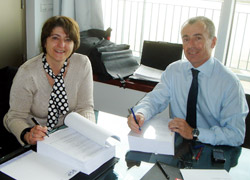 Sylvia Monfort et Régis Roux
On 7th April, SCP Europe and Nextpool groups signed an assignment agreement concerning 100% of the titles of manufacturing unit of liners and SOFI covers that belong to SCP Europe.

Thus, Nextpool has become the new owner and sole share-holder of this Company whose management was handed over to Mr. Laurent Marchal who is also the Operations Director of AbriBlue Company.

As far as Mr. Jean Seval is concerned, he will continue to ensure the day-to-day management for the 2008 season. Sud-Ouest Filtration (SOFI) is set-up in Bordeaux and is a «historical» manufacturer of liners, solar covers and winter covers.