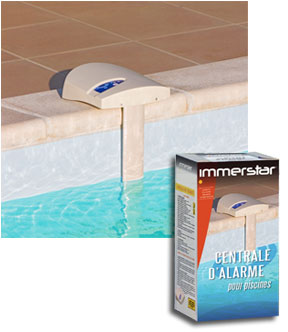 The IMMERSTAR immersion detection alarm, developed and manufactured by French Company ACIS, has just been certified compliant to the new French standard NF P90-307-1 from April 2009 (to be implemented by April 15, 2009) by the LNE (National Tests Laboratory). It is currently the only alarm on the market to be certified conforming to this new standard by the LNE France.IMMERSTAR
allows maximum efficiency thanks to its
pressure sensor system
. Fastening is carried out onto the swimming pool edge and the device offers the possibility of switching between the bath and watching modes.
The alarm integrates a
100 dB siren
and no wrong alerts will start due to heavy winds. This product operates with a magnet and a contact key.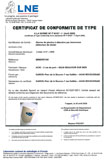 Its LEDs indicators provide permanent system status and the surveillance can automatically switch to watching.
It is powered with 4 LR20 batteries (supplied),
made in France
and comes with a
2 year warranty
.
Exclusive distribution through professionals.
To view the NF P90-307-1 standard compliance certificate established by the LNE,
click here
.