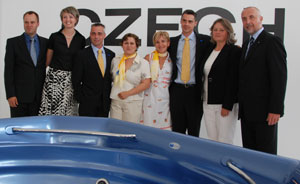 The leading European spa producer, the Czech family-owned company USSPA, opened its first foreign branch – sub company USSPA Hispania on May 29, 2009.
Registered office of the sub company is situated in attractive and easily accessible location of Parque Industrial de Elche, just 5 minutes from the Alicante airport. The Spanish Headquarters with
offices, warehouse and other administrative facilities, but mainly with modern two-storied showroom in contemporary minimalist style
offers a full service to its customers.
The showroom itself is exceptional with its area of 950 m²
, content and design. The showroom is located in the industrial building and discovers luxurious gallery of spas which is unique in whole Europe. The author, architect Michal Kunc, evolves the design of showroom at USSPA´s headquarters in Dolní Dobrouč, Czech Republic that was opened officially after the reconstruction at the beginning of March 2009.
In the Spanish gallery you can find the complete product range of spas and Swim Spas – in total 19 models and 2 models in operation where customers can try out the spa.
Thanks to the new subcompany USSPA Hispania also Spanish customers can enjoy the offer of complete professional pre to post service and care. Updated web pages
www.usspa.es
and complete range of catalogues in Spanish language are available to all customers.
Among the first visitors of the new showroom at the official press conference on May 29, 2009 there were journalists from prominent living, design and architecture magazines together with representatives of local media and radios. Also important public officials' – city Torellano mayor Ms. Leonor Antón and President of Parque Industrial de Elche Mr. Martin Minaya did not miss the opportunity to taste Czech gastronomic specialties and at the same time find out why USSPA belongs among the European leading and reputable companies in its segment.
And why Spain?
USSPA company and this country have a lot in common. In the ladder of values they place family and relationships on the top. Also they both appreciate luxurious but still functional design with high quality.
Opening of the own subcompany is a significant advanced step for USSPA company in moving forward to the new direction. It is a beginning of a new aera.