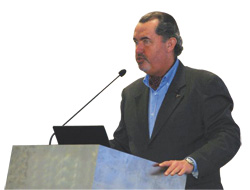 For
Gruppo Piscine Castiglione/Myrtha Pool
guidelines are crucial. It is not only a matter of traditional training.
The swimming-pool sector is in fact based on technical foundations, and requires special competences including technico-commercial engineers, technical designing abilities and last but not least installers.
This is why the company has decided to set up an actual professional swimming-pool training school. Therefore an independent structure has been built in Castiglione delle Stiviere, ad namely the Pool Academy®.


In an industrial building two classrooms have been obtained, the first covering 400 m² and the second 200 m², plus a canteen and a management office.
Piscine Castiglione/Myrtha Pools also avails itself of Pool Academy to present to its internal collaborators all new products developed by the company or which will be launched on the market.
In fact it considers it essential that everybody at all levels (from the commercial office to the onsite technico-commercial engineer) should be aware of every aspect of the offered products in detail.
There follow a few figures to understand the nature of the commitment of Castiglione/Myrtha Pools in Pool Academy, from the perspective of a constant global training:
in 2007, 25 courses were held in Italian, English, German, French and Spanish.
Around 600 participants came from over 20 different countries.
From the viewpoint of quality assurance focused on Vision, each course ends with a efficacy check with any potential suggestions made by the participants. Gruppo Piscine Castiglione/Myrtha Pools aims to keep up its growth trend by proposing quality technologies and products, designed, supplied, installed and taken care of according to a perspective of excellence.
Lionello Ambrosi