Since its introduction into the UK market Ocea has been honoured with a loyal customer base. In order to ensure that it provides the highest level of service it possibly can, the company is proud to announce it has invested in a new UK sales and storage facility, fully manned with an Ocea UK Sales and Service Team.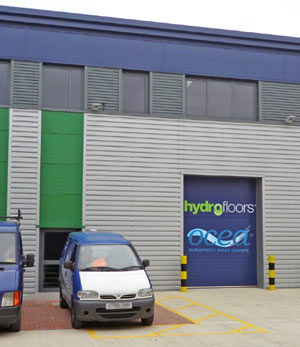 The new Ocea UK premises
Since its initial introduction into the UK market just ten years ago, Ocea has become a market leader. This success has been based on the company's ethics of
providing the best quality slatted cover on the market
, combined with t
he best quality customer service possible
. The brand has always strived to control its quality in both manufacturing and service by
doing as much as possible in-house
.
Nearly all aspects of the manufacturing and production are completely controlled within its own factory,
from the extrusion of the slats from raw material to the fabrication of all its stainless steel structures and frameworks. The company has recently been investing in a new injection moulding machine so that it can produce its own end caps to its own high standards.
Even though the last 18 months have been difficult for everyone, it has been an opportune time for the company to make an investment in the future. This is what Ocea has done by purchasing
its own base in the UK
. The company now has
100% control over the service and backup that it can provide its clients in the UK
to mirror the service it already provides for its clients on the continent.
Operational since the 4th of January 2010
the unit provides storage for a full range of spare parts that can be dispatched immediately. There are fully qualified and experienced teams of cover engineers, directly employed by Ocea, to provide professional installation and technical backup for all of its UK clients.
Ocea UK is also equipped to control all the aspects of processing orders from initial quotation to final invoice.
The new depot also offers greater flexibility for cover storage and delivery. The office is able to deal with all technical or sales needs.
CONTACT INFORMATION:



Mr Alan THORNE - Manager
Ocea UK - Unit 7
Chancerygate Business Centre, Langford Lane
Kidlington - Oxon OX5 1HT

Phone: +44 7502294909
E-mails: alan@oceauk.co.uk or info@oceauk.co.uk