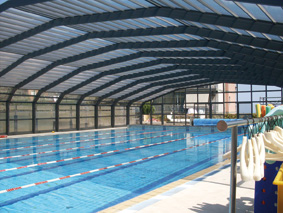 Italian manufacturer
A. di Arcobaleno
has realized an important project in Sicily: its
Energy Plus
model (240 mm of UNI 6005 A aluminium alloy in a marbled grey colour profile, created to satisfy the public facilities needs) has been installed at the sport facility Muri Antichi in Tre Mestieri Etneo (CT).
The community center has a external area with a semi-Olympic swimming pool (12,50 m. wide and 25 m. long) and a smaller aquagym pool (3,5 m. wide and 9 m. long). Intending to use most of the external space, the project of installing a telescopic enclosure has been evaluated and approved. The technical staff studied the best solution on the basis of the project and the survey: the offer considered the covering of the two pools and the connection to the existing buildings.
The enclosure (18 m. wide and 38 m. long) is made of 19 sliding elements and opens in the middle. In winter, it will be extended to allow the pools to be used in a closed area, whereas in summer it will be bundled thanks to the telescopic system, also allowing both pools to be used.