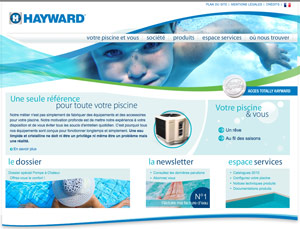 The redesigning of the Hayward Pool Europe website has resulted in a portal that is clear and simple. The menu is divided into four main sections.
A section dedicated to services, with documentation, catalogues, technical manuals as well as an interactive tool used to configure future pool projects.
The space devoted to visitors "Your pool and you",
offers valuable practical advice to prospective and current pool owners. Special features will deal with particular subjects in-depth and are freely accessible as a supplement.
A newsletter, "Naturally Hayward"
, has also been introduced, for download or email, helping to strengthen its links with internet visitors.
Lastly, there is a link on the homepage that takes the visitor to the sites of the Totally Hayward® programme partners.
English and Spanish versions will soon be added to the site.