The MultiCyclone 70XL pool filter from Waterco uses centrifugal filtration technology to clean pool water without using any filter media.

The product works by guiding incoming water using a diverter plate so that it enters 70 hydrocyclones that spin sediment out to the hydrocyclone's wall. It then spirals it down to the sediment chamber, while the cleansed water spirals upwards and out. It is cleaned by simply opening the purge valve. There is no filter media to clean or replace, and no moving parts that cause wear and tear.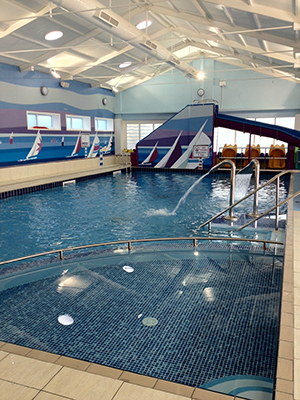 As the first of the MultiCyclone suite of products designed specifically for both new and existing commercial installations, the MultiCyclone 70XL is designed to handle a flowrate of 90m3/h, compared with its domestic 'cousin', which handles up to 30m3/h. It comes with 4in./100mm inlet and outlet ports.

The product has been installed in the recently refurbished heated indoor pool at the Seaview Haven Holiday Park at Weymouth Bay on England's south coast. The existing plant room could not be altered, which meant there was insufficient room to add another filter in order to meet the latest PWTAG standards, explains Tim Bareham, managing director of Dorchester-based swimming pool specialist Cresta Leisure Limited which undertook the refurbishment.

The installation of the MultiCyclone 70XL has not only solved the space problem, but has resulted in a much reduced frequency of backwashing, which in turn has not only saved time but also thousands of litres of heated and chemically treated water, according to Tim Bareham.

Like the domestic units, the MultiCyclone 70XL is also capable of reducing filter maintenance and is ideal as a pre-filter, thus extending the life of an existing filtration system and media.

The Multicyclone XL70 is available exclusively within the UK from Certikin International.