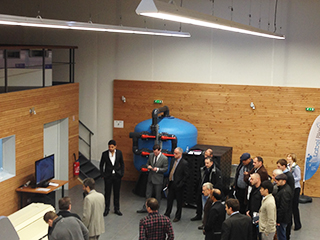 60 of Procopi's Export Distributors gathered in the Group's International Showroom and Training Center in Paris during this spring for the annual Export Seminar.
The varied technical and sales presentations covered such subjects as Hydraulics, the Power Inverter technology in heat pumps, installation of an automatic slatted cover, repairing an automatic cleaner and the Aquareva Range of pool fi ttings.
Of course, being in Paris a trip to the Champs Elysées followed by a dinner cruise on the Seine river were part of the highlights of the seminar.
New products presented to export's distributors
"ZUBADAN" means "very hot" in Japanese! The new range of Turbo Powered Climexel Heat Pumps is launched. Mitsubishi's Zubadan Technology is integrated into the Climexel Range.

In the spring and summer, there's no problem, but what do you do when the outside temperature drops to -15°C or even lower?

In most cases, there is not enough outside energy to effectively heat the pool water. This is where the range of "Zubadan"-Powered Climexel Heat Pumps come into their own - the «turbo» effect of this exclusive technology injects refrigerant gas into the circuit at lower temperatures, thus increasing the heating power of the heat pump, similar to the turbo effect of a car.

As such the "MZI" (Mitsubishi Zubadan Inverter Technology Heat Pumps) are able to yield 70% of the nominal heating power (that given at +15°C in the catalogues) at the freezing -15° Celsius.
Aquareva Metallic added to range

Procopi is already well known for its range of pool flow fittings and lights in 8 colours (Aquareva Color). Now the company has added the full range of stainless steel coated ABS fittings, manufactured by plasma technology.

The result is a cost-effective way of giving ABS fittings a stainless steel image, by coating them with a thin layer of stainless steel. The face plates and skimmer throats can be easily removed and replaced should they, after some years and just like "real" stainless steel parts, loose their shine.