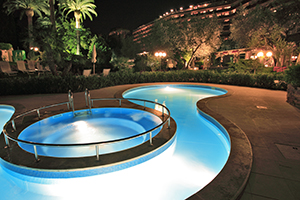 Myrtha Pools is proud to announce that it has been selected as an approved supplier and partner of Hilton Hotels Worldwide.

Myrtha Pools, which has been the technology selected for the Olympics, World Championships and other high level venues for many years, is proud to bring this advanced technology to the Hospitality and Resort market, and in particular, the Hilton brands, which include: Waldorf Astoria, Conrad, Hilton, Double Tree, Embassy Suits, Hilton Garden Inn, Hampton, Homewood Suits, HOME 2, Hilton Grand Vacations.

"We are delighted to be selected by Hilton" said Roberto Colletto, CEO of Myrtha Pools.
"Our technology will help Hilton properties significantly improve their aquatic facilities, giving their customers a much better environment and experience, while greatly reducing the costs and maintenance associated with traditional construction methods. Myrtha technology is also the most environmentally friendly technology on the market today by reducing the use of water, energy and chemicals, and I know this is very important to Hilton Worldwide goals".