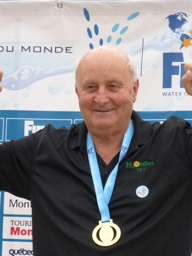 Anti Wave International founder Anti (Anton) Kajlich and his fellow team members have collected a Gold Medal in the 70+ category in water polo at the FINA World Masters Games – staged in Montréal, Canada, from 27 July to 2 August.

Named the H2Oldies 70+, the team had an astonishing average age of 72.5 years, with the oldest member being 78. Team members consisted of three Slavs, five Californians, two Hawaiians and one Alaskan, with some members having competed at the 1964 Tokyo Olympics and one even at the 1960 Rome Olympics.

Teams could be made up of competitors from all nationalities – the only requirement being to possess a passport confirming their age.
For the record, the H2Oldies 70+ won their final 5–4 against a 'world team' of oldies ranging from 68 to 72 years old.


Anti's colleague and friend, Fred Black, competing in the 65+ group, said:
"This 70+ team had nothing to do with Anti's company, but more to do with his love of sport. I knew him back in 1967 when he was the Cal Berkeley [Berkeley University of California] goalie, where he had been recruited off the Czechoslovakian national team. Back in those days his whip-kick was so strong that he could keep his suit half dry as he worked up and back on the goal and no opposing team shots got by him.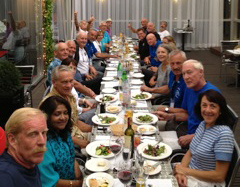 "Originally we had about 25 guys, some over 70+ and some between 65–69 years of age, and we intended to send two 65+ international teams to Montreal. The 70+ players, however, wanted to make the statement that water polo is for all ages."

"These guys playing water polo at 70+ years of age are inspirations to all the other ageing players to keep working out and to keep the sport alive into older ages. Hopefully within the next six years FINA World Masters will expand to allow for three 70+ teams," adds Fred.