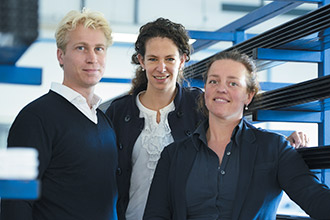 Patrick VAN DER VELDEN, Patricia VERBOVEN,
Janneke DE LOUW
After several years of experience in the world of swimming pools (public and private), the young Dutch entrepreneurs Janneke de Louw, Patricia Verboven and Patrick van der Velden created the company (Re)Cover.
Based on the observation that roller cover systems last longer than slats, the 3 partners have gone into this niche of replacing pool cover slats.
The custom-made production is provided by experienced staff, giving particular attention to the base materials, the slats sealing and the dimensional accuracy.
Favouring the high quality, the company is however committed to providing affordable prices for its products. The company looks at the pool cover industry from a very contemporary angle and is now a partner to many distributors, pool specialists and manufacturers using its own brand name.