The recent 11th annual World Aquatic Health Conference (WAHC) attracted visitors from a record number of US states and countries, and 51% of visitors were new attendees, say the organisers.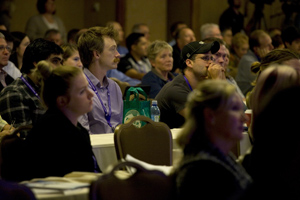 Hosted by the non-profit National Swimming Pool Foundation (NSPF), the event was held in Portland, Oregon, on 8–10 October. Nearly 400 people from 42 states and 12 countries attended the WAHC, with visitors from the USA, Australia, Austria, Canada, Denmark, Hong Kong, Iceland, Mexico, Poland, Sweden, the Ukraine and the United Kingdom.

The WAHC is aimed at people involved in all areas of aquatics, including aquatic facilities, service providers, consultants, parks and recreation, water parks, manufacturers, academia, associations, builders, community organisations, distributors, hotels, government, health/medical, retail, and media.

"The WAHC spotlights advances that can generate growth and curtail contraction for our field and industry," said Thomas M. Lachocki, CEO of the NSPF.

A main focus of this year's WAHC was on how to help people overcome their fear of water, and to find solutions to the continuing high rates of drowning in the USA.

According to figures, two-thirds of Americans are afraid of deep, open bodies of water, and 46% are afraid of the deep-end of a swimming pool. Studies show that children of non-swimmers never learn to swim, and this follows through to their children too. Breaking the known cycle of generations avoiding the water is vital, say the WAHC organisers.

The 2015 WAHC is to be held on 7–9 October in Scottsdale, Arizona.

For further information, visit www.thewahc.org