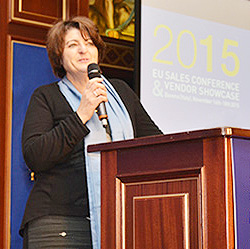 Sylvia MONFORT
General Manager of SCP Europe
"On 12th October, our parent company, PoolCorp, celebrated its 20th anniversary as a public company, occupying 9th place among the 1,500 companies
the most profitable listed on the stock exchange!
I set out on my adventure with SCP Europe.
Ten years ago, SCP Europe acquired Busatta after Norcal, Swimming pool Warehouse, Albouy, Exporlinea, SOFI and Hayward Iberica!
This year, after a journey of more than 15 years and for the first time in our history we are on target to attain a consolidated billing of 100 million!
This places us among the major players
of the pool industry in the EU!
It was with these strong and symbolic numbers that Sylvia Monfort, General Manager of SCP Europe, delivered her welcome address to the 300 people attending the 3rd Sales Conference & Vendor Showcase that was held in Italy at Baveno, in the charming gulf of the Borromean islands - pearls of the Lake Maggiore.
During three days, from 16th to 18th November, in the magnificent setting of the Gran Dino Hotel, all the SCP teams from Europe, the management teams from PoolCorp the US parent company, its Chairman and CEO, Manny Perez de la Mesa, and Rusty Sexton, Chairman, the world's leading manufacturers in the Pool and Well-being market as also SCP's partner brands participated in this exceptional event brilliantly organized by Eric GALAIS and the SCP Europe team with flawless logistical support from the teams from SCP Italy.
150 decision makers and directors from SCP
All through these very studious days, alternating visits to booths, conferences technical training, but also in a festive spirit, some 150 decision makers and key SCP heads from 7 countries and 13 sales offices in Europe, were able to meet their privileged suppliers and hold quality discussions.
SCP's manufacturing partners, long-time supporters and new entrants - a total of 46 suppliers, including 11 new participants - were able to present their innovations for 2016, and also their product lines, discuss the state of the market and their innovations, describe their preseason offers, and promote their services, among other things.
Events and comedy shows produced by SCP heads and their teams were presented on a huge stage equipped with 3 large screens, and prizes and trophies were awarded to the best agencies and suppliers.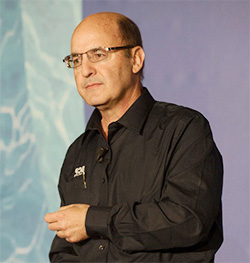 Manny PEREZ DE LA MESA
After asking the audience to observe a minute of silence in tribute to the victims of the attacks that had just struck Paris, Sylvia Monfort and Manny Perez de la Mesa made a point of reaffirming SCP's values to all its partners present: Investment in human capital and training to achieve excellence, great respect and exemplary loyalty to its partners, whether they are customers or suppliers, a culture of service and community, a capacity for investment and innovation, unwavering support of and to its vendors, all of which are made possible by the Group's financial soundness and confidence in the development of SCP Europe.
On Wednesday, over 150 VIP clients of SCP Italy, specially invited for the occasion, were requested to join this private SCP exhibition and to talk directly with representatives of the top leaders in the pool market (Hayward, Pentair, Maytronics, etc.).
These SCP days ended in triumph with a gala dinner, followed by a magnificent fireworks display over the lake, attended by nearly 350 people who were delighted by the show.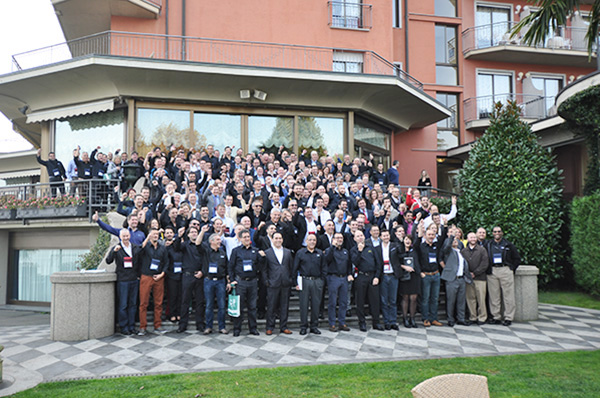 Some photos of the Sales Conference & Vendor Showcase 2015
...