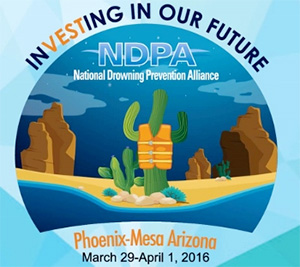 The 14th annual National Drowning Prevention Alliance Educational Conference in Phoenix/Mesa March 29 - April 1, 2016 is a unique opportunity for organizations and individuals interested in drowning prevention to come together.
At its 2015 Conference in Dallas, NDPA announced a new mission statement "United, we can prevent the tragedy of drowning", clarifying NDPA's special role as catalyst for advancing drowning prevention. The restructure of NDPA that accompanied the new mission statement formally recognizes four broad sectors as "Pillars" of NDPA:
•

Task Forces/Coalitions Pillar
•

Educational & Training Pillar
With the members, partners, and sponsors, NDPA's single minded focus is now to support informed water safety advocacy across a full spectrum. Recent initiatives by NDPA in pursuit of this include:
1.

Four NDPA Pillars will be equally represented at the 2016 Conference.
2.
Innovators and companies that create, manufacture, promote and sell products and services to make water safer are recognized as vital contributors and partners. Two more industry leaders were appointed to NDPA's Board July 1, 2015, Carvin DiGiovanni, Vice President: Technical & Standards of the Association of Pool & Spa Professionals, and Eric Lupton, President of Lifesaver Pool Fence Systems.
3.
A bimonthly NDPA Newsletter presenting events, ideas, strategies, and research that inform and facilitate collaboration has been inaugurated this month.
Attendee and Exhibitor registration for the 2016 Conference is open.

About the National Drowning Prevention Alliance
The National Drowning Prevention Alliance is a 501(c) 3 non-profit organization created to form a
catalyst for drowning prevention on a national scale. The NDPA is comprised of members, supporters, partner organizations, foundations and advocates that work towards increasing awareness of drowning prevention and water safety through collaboration. The NDPA believes that UNITED, we can prevent the tragedy of drowning and that together we make a difference in water safety in the United States and internationally.