For over 35 years, Favaretti has been designing and manufacturing pool covers, not only for residential pools, but more specially those for large aquatic infrastructures.
These user-friendly solutions, fully customised, have helped to reduce direct operation costs by 35% per year on an average.
In practical terms, covering the pool during the night and during the days when the establishment is closed prevents any evaporation of water.
Municipal swimming pool of Latina, Rome,

pool cover.

Public pool with foam cover and automatic shutters

Milan .
The other immediate advantages of these covers are: savings in water heating costs, a drastic decrease in electricity costs (ventilation and dehumidification systems are turned off), minimum water supply, and the use of chemicals is significantly reduced.
All these advantages allow operators to focus their efforts and investments on customer services.
Public pool with foam cover and

automatic shutters fixed to the wall, Thiene

Olympic swimming stadium (25 x 50 m)
San Marino
With its highly competent technical staff and extreme flexibility, Favaretti is able to offer solutions to every customer. The company is able to build covers for pools of any shape, and also for aquatic parks and residential pools. The covers are made to measure, and can be fixed on the ceiling, wall, or even under the pool floor so that the winding system is completely invisible.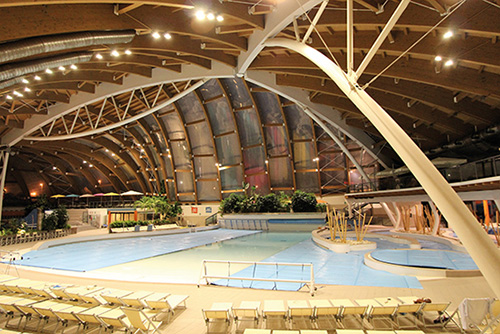 The biggest covered aquatic park in Italy : AQUAWORLD, Milan