This allows them to confirm they are the Europe's number one selling filter cartridge for pool and spa. Darlly has increased its stock levels to over 40,000 filters to meet demands.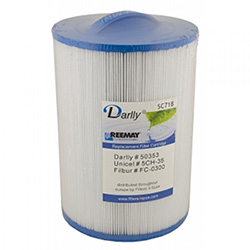 The manufacturer states its core values as being:

"Better Filters: The quality of our product has worldwide recognition; we are the only supplier of replacement filter cartridges to provide an unqualified guarantee on our products. Darlly manufactures filter cartridges for many of the biggest OEM's.
Better Service:
We have placed our customer's experience at the heart of all we do; our business is customer-centric. Delivering customer value is extremely important to us.

Better Prices:
In a very difficult and competitive environment our pricing policy is to provide a better product at a better price, but never compromising on quality!"

This has been shown to work with a brand that is acclaimed by the trade and consumers in Europe.