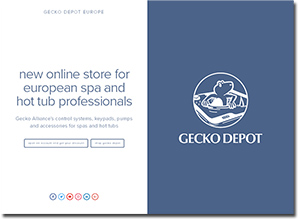 New Gecko Depot Europe online store is for the exclusive use of spa and hot tub manufacturers, distributors, dealers and technicians located in European countries.

They designed their store to make it easy to find, order and get the Gecko control systems, keypads, pumps, accessories or parts they need.

Now spa professionals can buy Gecko Alliance's control systems for spas and hot tubs online to upgrade and optimize their customers' spa experience. Their store features Gecko's Y series, the best retrofit control systems in the spa industry.
Y series systems are available in bundles, with everything needed to perform a complete retrofit installation: control system, keypad, adapter plate and cables.

Gecko Depot Europe online store also features complete series of Gecko's multi-function and multi-feature keypads, renowned Aqua-Flo by Gecko pumps for all spas, from small to swim, and a complete range of accessories like wireless control from mobile devices, water sanitization, audio streaming and other value-added peripherals.

For spa distributors, dealers and technicians, Gecko Depot Europe is also the source for top-quality genuine Gecko parts like boards, cables, fuses, heaters, lights, probes, switches, transformers and more.

Find the new Gecko Depot Europe online store at: https://gdeuro.com

To open an account and get a discount, go to https://gdeuro.com/open-account