Opening in April 2018, Park of Poland's first phase will showcase a variety of Polin's signature waterslides in a glass-enclosed water park.
Phase one of a new entertainment facility, Park of Poland, debuts this month with the opening of a huge indoor aqua park named "Waterworld".
Eventually, the overall facility will grow into the largest amusement park in not only Poland but all of Central and Eastern Europe. It is expected to be second only to Disneyland Paris in size and scope.

The first phase on its own is impressive enough, however. A giant all-glass enclosure wraps around the aqua park, which will cover 20 hectares (49 acres) and feature more than a dozen of Polin Waterparks' signature waterslides. All waterslides have unique design and ride configuration specially designed for this amazing waterpark. A glass-paneled domed roof can slide open or closed to create a palm-tree-filled paradise no matter what the weather.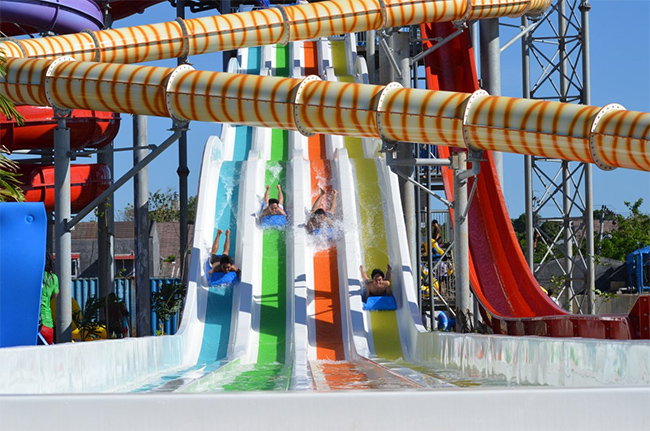 Multi Surf

The new park is being developed by Global City Holdings (Rotterdam, Holland) in cooperation with strategic partner Wund Unternehmensgruppe (Friedrichshafen, Germany). Wund Unternehmensgruppe, which will be responsible for managing the waterpark, has significant experience with similar operations. The firm currently operates four large water parks in Germany. Its most well-known facility is Therme Erding, Europe's largest indoor swimming pool with a removable roof.

Global City Holdings is making the Park of Poland project one of its highest priorities and expects the facility to create a new industry in Poland and employ 1,100 people.
Polin Waterparks is proud to be the waterpark supplier of Waterworld's entertainment offerings. More than 15 different signaure waterslides will fill the facility, in addition to a tropical pool and large spa and wellness center.

Space Hole

Further investments will be completed in the next six years with additional entertainment options that - like Waterworld - will be open all year. The park is located near the city of Mszczonów, about 60 kilometers (37 miles) from Warsaw. In its first year, the park is expected to attract 1 million guests.

Waterworld will have three zones. The first is its giant swimming pool. A second area will take advantage of the area's natural geothermal water resources to provide indulgent spa treatments. The third will be "the center of the galaxy" and feature more than a dozen of Polin's signature waterslides.