The PENTAIR Academy offers to the pool professionals (PIP members) to join training sessions to learn the latest developments in automation systems, pumps, heaters, lighting, filtration,... The training days are hapening in diferent countries in Europe, parts of the PENTAIR Academy Training Tour!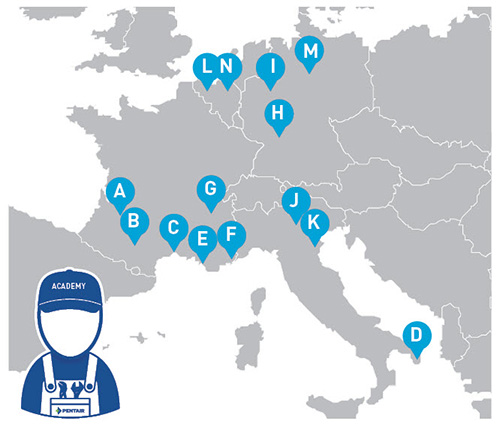 The experienced instructors will give the professionals the real-world techniques and understanding to specify, install, troubleshoot and service Pentair's advanced equipment. They will be able to update their knowledge and value their know-how to their customers.
Topics are different per training day and include:
• Variable speed pump range and connectivity
• Automation solutions - possibilities, electrical and hydraulical connectivity, usage and maintenance: IntelliPool® / ControlPro™
• Heating solutions: UltraTemp®-E heat pump and MasterTemp® gas heater
• Cleaning
• Chlorination
• Pentair product updates and upgrades.
The training course, for PIP members only, includes a master class, lunch and workshop material. Registration in advance is required, only a limited number of seats is available.
Final dates or locations can be modified.
| | | |
| --- | --- | --- |
| On map | Cities | Dates |
| A | Bordeaux (FR) | 14.11.2017 |
| B | Toulouse (FR) | 16.11.2017 |
| C | Montpellier (FR) | 21.11.2017 |
| D | Lecce (IT) | 22.11.2017 |
| E | Marseille (FR) | 23.11.2017 |
| F | Nice (FR) | 28.11.2017 |
| G | Lyon (FR) | 05.12.2017 |
| H | Frankfurt (DE) | 12.12.2017 |
| I | Oberhausen (DE) | 14.12.2017 |
| J | Brescia (IT) | 16.01.2018 |
| K | Bologna (IT) | 18.01.2018 |
| L | Gent (BE) | 25.01.2018 |
| M | Köningslutter (DE) | 30.01.2018 |
| N | Herentals (BE) | 08.02.2018 |