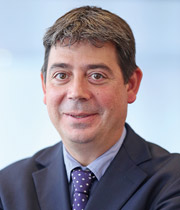 Eloi PLANES
"Proud to welcome the actors of a healthy and dynamic industry!"

This year's Piscina & Wellness Barcelona is now here, and I am pleased to have the honour of chairing the event.
There are 315 companies from 25 countries exhibiting here, offering solutions for the construction of new swimming pools and for the refurbishment and maintenance of existing pools, promoting maximum energy efficiency, comfort and practicality, and optimal integration into the environment, with respect for water and its sensible use.

There is a trend in the industry towards promoting new ways of maintaining existing swimming pools thanks to state-of-the-art products and services, thereby "rejuvenating" swimming pool facilities through refurbishment and upgrades. On another note, we must also seek to develop international business, outside Spain, especially in emerging markets.

The Spanish swimming pool market is currently experiencing a return to growth, thanks to a renewed domestic demand. The Spanish Association of Swimming Pool Professionals (ASOFAP) – which has organised this exhibition – predicts that sales will increase by between 8% and 10% this year, driven by products for the refitting, repair and maintenance of facilities, which represent 70% of total sales. Nevertheless, revenue from new pools is also performing well, with turnover from new constructions alone increasing by 12%.
Therefore, this is a "healthy and dynamic" sector, one which is forward looking and committed to innovation, internationalisation and the use of cutting-edge technology, sustainability, and stronger ties to the tourism industry. This trade fair will also be a hub for sharing knowledge, a forum for discussion, and an excellent networking opportunity.
There will be various events, competitions, awards, and other activities providing added value to the exhibition and all its attendees.

I would like to thank Le JUSTE LIEN by EuroSpaPoolNews for this opportunity to address you, and use it to wish a warm welcome to the professionals of the swimming pools sector, who have come to participate in this trade fair as either exhibitors or buyers.
Once again, I wish you all great success and hope that the exhibition is useful, inspiring and a unique networking opportunity for all of us in the swimming pool industry.
Eloi PLANES

Discover Piscina & Wellness Barcelona