In a few weeks from now, aquanale 2017, will open its gates. From 7 to 10 November 2017, over 300 exhibitors from more than 25 countries will showcase their new products and concepts. aquanale takes place in co-location with FSB, the International Trade Fair for Amenity Areas, Sports and Pool Facilities.
Halls 6 and 7, clearly organised into six exciting theme worlds, are dedicated to private aand public swimming pool facilities and the sauna, spa and wellness segment.
A supporting programme of trade events rounds off aquanale and provides crucial impetus for the industry, in particular with the 7th International Swimming Pool and Wellness Forum.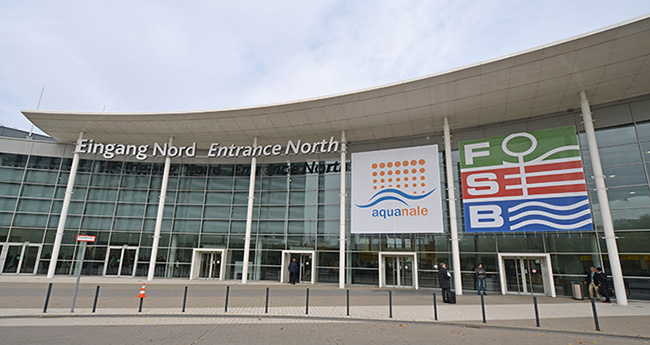 This year, the programme's focus during the four days of the trade fair will be on apprenticeships and continuing professional development, employee training, standardisation and health & safety, build-operate-transfer models and thermal baths as a tool for developing tourism, as well as architecture, design and materiality.
The award-winning projects that received the IOC/IPC/IAKS Architecture Prizes 2017 in the Pools, Spas and Wellness Facilities category will be presented for the first time at the forum.

The IAB, the International Academy for Swimming Pool, Sports and Leisure Facilities, is hosting a meeting in the afternoon of 9 November 2017 on swimming pool renovations. It will present examples of best practice and the state of the art in technology.

The APSP (Association of Pool & Spa Professionals) will give an in-depth overview of the US swimming pool market on 9 November 2017.

This will be followed by the presentation of the EUSA Awards to the prizewinners in recent years by EUSA President Andreas Petridis (European Union of Swimming Pool and Spa Associations).

Issues in the private swimming pool sector are also on the international forum's agenda, and not just in relation to EN 16582 and EN 16713. The requirements of the first European standards for domestic swimming pools will be outlined and clarified.

See the complete programme of the Forum on www.aquanale.de